Life is an adventure. Every day comes to us with a million possibilities for change, self-discovery, friendship, love, and service. We find ourselves with choices such as– Do we go after the next stage of our dreams? Do we do our usual routine? Do we dare try something new? Do we choose to forgive the people who have hurt us? Do we try to educate ourselves more? Do we tell someone about Jesus? The list is endless.
Although life can throw weird curveballs across our path (more adventures for us?!), we can choose to be intentional about how we spend our time every day. For one, it's always good to come before God each morning to commit our day to Him and to ask Him for instructions. There is something right and true about making God and His ways a priority. I love how David prayed this with utmost intentionality:
"Show me your ways, Lord,
teach me your paths.
Guide me in your truth and teach me,
for you are God my Savior,
and my hope is in you all day long."
–Psalm 25:4-5 NIV
As people committed to the Lord, we should live our days with Him at the center of our lives. Yes, God should be our desire. We should want to know more about Him,  do His will,  be taught by Him, love Him and enjoy being loved by Him! Our days shouldn't be random and purposeless (even days of rest can be filled with utmost purpose).
This May, One Voice Magazine embraces the theme: "Where Do My Feet Take Me?" We will explore the lives of people who have embraced the intentionality of following Jesus, even if it means stepping into unknown cultures.
Members from the team will be going to Singapore for missions training this month. While there, we will be creating videos and write-ups of where our feet take us. This is something you can anticipate, especially if you have a burden for women on the streets or for Ishmael's sons!
"Where Do My Feet Take Me?" should challenge everyone who reads One Voice Magazine to follow the footsteps of Christ Himself. Key to this theme is the verse: "He who says he abides in Him ought himself also to walk just as He [Jesus] walked" (1 John 2:6 NKJV). Of course, things in our lives don't have to be grand for us to follow Christ's footsteps. We can follow Christ in ordinary adventures that impact us greatly– like doing something new or hiking up a mountain or making a new friend.  However, if God leads our feet to extraordinary adventures like participating in cross-cultural missions or local missions, then let's have the courage to say, "Yes, Lord! Here I am! Lead my feet!"
Enjoy the readings this month, dear readers!
One with you in this adventure called life,
Janina Marie Rivera
Editor-in-Chief, One Voice Magazine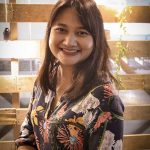 Janina Marie Rivera is the author of the book, A Night Bird Sings of Blindness and Fear and has co-authored the devotional, Dawns, published by OMF Literature. She is a contributing poet in the books Joyful Light and Whitmanthology: on Loss and Grief by Various Authors. She is the Editor-in-Chief of One Voice Magazine.