My dad gave me a thick spiral notebook for journaling when I was eleven years old. I only started using it when I was in college and in my early 20s. This journal, of all my diaries, contains many of the key decision points of my life as a young person: how to move forward in career, marriage, and faith.
I wrote down what I wanted in a husband
My parents always told me to write things down to clarify my thoughts and plans, to give direction to my energy, and to remember what God has spoken to me. Whenever I leaf through my journal, particularly when I revisit the entry below, I praise God for how He made known the blueprint for my life at a young age.
From My Journal Entry in 2001
My Calling as Musician, Missionary, and Mentor
"To make many Filipinos passionate about quality music
To make many Filipinos excited about exploring and developing their musical gifts excellently at any level.
To expose many Filipinos to quality musical performances, audio, and teaching materials
To inspire many Filipino musicians to invest in developing Filipino talent
To see music as an effective medium for the Gospel, and to use music to reveal the character of God
TO BECOME A CULTURAL LEADER, RAISING FILIPINOS' LEVEL OF CONSCIOUSNESS THROUGH EDUCATION, MEDIA, and the ARTS."
The Importance of Vision
Without vision, the people perish. Without vision, I live aimlessly. God leaves us clues. These clues may be key experiences, key dreams, key thoughts. Life clues turn into key words. The key words form a mission statement. The mission statement becomes a life navigation tool to zero in on a destination, to stay on a certain path, and to channel my time and energy wisely into fulfilling the role He has asked me to play in His Kingdom.
My Need to Remember Vision
During my first winter in the U.S., I underwent seasonal affective disorder, which spiraled into clinical depression. I was barely functional, and I was beginning to forget who I was and why I had gone abroad to study music in the first place. I wanted to quit music and quit life.
However, in the early spring, my darkened mind experienced a moment of clarity and lightness, like a deep gulp of air after being submerged underwater. I wrote this diary entry during the respite. God reminded me of my identity and gave me a game plan.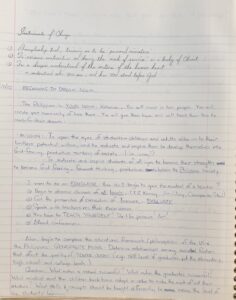 My Journal Entry from 3/12/02
Beginning to Dream Again
"The Philippines is YOUR HOME, Katherine. You will invest in her people. You will create your
commmunity of love there. You will give them hope and will teach them how to reach for their
dreams.
"Your MISSION is to open the eyes of students—children and adults alike—to their limitless potential within; to motivate them; to inspire them into developing themselves as God-fearing people; to help others harness their strengths and become forward-thinking, productive contributors to Philippine society.
God Building My Foundation
God planted the seeds for music, education, and missions early in my life, and these three inseparable seeds grew in a nurturing environment. My mom was my first piano teacher. At age five, I had a vision of myself dressed in white on a stage, playing the piano for the poor. At age six, my parents sold our belongings to buy me a piano and fund my first piano lessons. My dad helped his sister set up a preschool, which became a haven for my imagination to flourish.
Both sides of my family have a love for educating. At a Christian school, my dad was the pastor and principal. It was natural for me to think that academics and sharing the Gospel went hand in hand.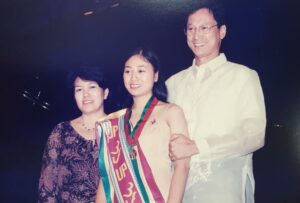 Graduating Summa Cum Laude from the University of the Philippines
When I studied at the Philippine High School for the Arts, I was inspired by teachers, many of them painters, writers, and performing artists. Though I focused on honing my gift in classical piano performance, I thought teaching was a glamorous profession, and there was no lifestyle more rewarding than becoming a missionary to the nations.
I know this is an idealistic world view, and I have certainly been hit by the hard reality that all three callings are among the most difficult to sustain, both financially and emotionally. But I believe God allowed me to think this way all throughout my childhood to impress this life path deeply in my heart, so I would not depart from it.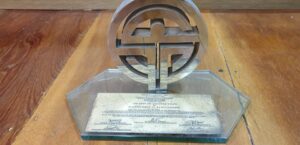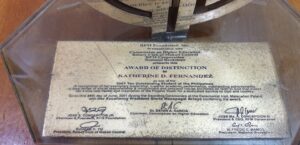 An award I received: 2001 10 Outstanding Students of the Philippines
END OF PART 1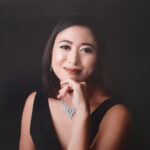 Katherine Anne Victoria Fernandez Asis
Katherine Anne Victoria Dayrit Fernandez-Asis graduated from the Philippine High
School for the Arts in 1996, where she was awarded class valedictorian,
outstanding music graduate and MARIA scholar. She completed her bachelor's
degree in Piano in 2001, under the tutelage of Professor Carmencita Arambulo,
from the University of the Philippines Diliman, summa cum laude and university
Valedictorian. That same year, she was awarded one of the Ten Outstanding
Students of the Philippines, UP Alumni Association Outstanding Graduate, UP Gawad Chancellor's
Pinakamahusay na Estudyante, and was named a member of the Phi Kappa Phi Honor Society.
Katherine is married to banking and finance lawyer Jehri Asis, and has five children. Aside from full-
time mothering, she teaches Suzuki piano, assists and teaches in local and international Suzuki
conferences, performs, organizes concerts, fundraises, and gives lectures and master classes on classical music.