With Johanna Garcia and Ting Sindiong
For every magazine issue, the team endeavors to cover one aspect of society where people need to make a difference. We have gone to the red light districts of Singapore and Quezon Ave., praying with ladies and giving them cookies to show that Jesus cares. We have gone to Bilibid prison and juvenile prison to tell inmates that there is still hope and that they have a future. We have spread ourselves among different relief efforts to help typhoon victims. We do this tirelessly because community is important to us.
In the Grace issue, The WhatMag team went to Smokey mountain for Kid's Paradise, an event organized by U!Happy Events and Metro Ministries. It was a day when street children, exposed to the grime and smells of trash, enjoyed having a kuya and/or ate who held them in their arms, laughed with them, fed them, and gave them gifts.
Here's the story from Ting Sindiong
When you hear the word paradise, what first comes to your mind?
Honestly, I imagine myself reclining in a hammock on a beach with white sand and pure shores. The view is that of the sun setting, and of cotton-candy blue clouds. I feel the grain of sand touching my feet as God whispers through the wind. I am also drinking my mango-lychee shake.
Last May 15, I was blessed to join One Voice, U!Happy Events, and Metro Ministries in the Smokey Mountain outreach. I had never been to Smokey Mountain before, and I was quite excited to volunteer for a different kind of paradise.
When I arrived at the venue, there were around 500 kids gathered and 100+ volunteers. I looked around, and some kids were wearing torn, stained clothes. Some didn't even have slippers, but you could really sense their innocence, playful hearts, inner joy, and peace.
One girl wanted me to carry her in my arms. I did, and she hugged me tight and didn't want to let go. At that moment, I remembered Jesus. I remembered His love: His open arms, delight in us, amusement in our daily dependence, forgiveness, and understanding. Despite all of our failures, wrong decisions, spoiled attitude, stubbornness, and disobedience, Jesus' arms are wide open for us.
This is what I learned from the kid: a kid's paradise is not super?cial. It doesn't depend on where you live, on how you look, or on what you wear. Paradise can be felt within you when Jesus sets His throne of love in you.
Like a child solely depending on his or her father, a kid's paradise is Jesus' love: sacri?cial, unconditional, eternal, and always ready to accept and love you for you who are.
Ting Sindiong is part of One Voice's core team. Aside from her responsibilities with the magazine, she co-owns and manages Made in Heaven merchandise.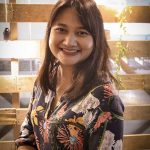 Janina Marie Rivera is the author of the book, A Night Bird Sings of Blindness and Fear and has co-authored the devotional, Dawns, published by OMF Literature. She is a contributing poet in the books Joyful Light and Whitmanthology: on Loss and Grief by Various Authors. She is the Editor-in-Chief of One Voice Magazine.