With Johanna Garcia and Ting Sindiong
For every magazine issue, the team endeavors to cover one aspect of society where people need to make a difference. We have gone to the red light districts of Singapore and Quezon Ave., praying with ladies and giving them cookies to show that Jesus cares. We have gone to Bilibid prison and juvenile prison to tell inmates that there is still hope and that they have a future. We have spread ourselves among different relief efforts to help typhoon victims. We do this tirelessly because community is important to us.
In the Grace issue, The WhatMag team went to Smokey mountain for Kid's Paradise, an event organized by U!Happy Events and Metro Ministries. It was a day when street children, exposed to the grime and smells of trash, enjoyed having a kuya and/or ate who held them in their arms, laughed with them, fed them, and gave them gifts.
Here's the story from Johanna Garcia.
Smokey Mountain was a place that brought tears to my eyes, humility to my heart, and gratitude to my soul.
During the 1&1/2 hour jeepney ride to Smokey Mountain, I silently prayed, "Lord, please give me grace. You know how terrified I am of smell and dirt." I heard all sorts of things about this place — the smell, the diseases, the garbage, and I found myself wondering, "What am I doing here?"
As we walked to the "Kids Paradise" spot, we, the One Voice team, along with other volunteers, were greeted by 550 kids! I was then instructed to sit in front with a group of kids and be their friend. I clutched my Sampaguita necklace and squeezed my way to the front, making sure not to step on the kids sitting on the ground. I got a glimpse of some of the kids and was saddened by what I saw. A few kids were walking around without clothes, and a huge majority of them had skin problems: open wounds with dry blood, visible chicken skin, and a lot more that I'd rather not share. "God, why?" was all I could think of at that moment.
I was looking around for a place to sit, when this group of kids started to call my name! "How cool," I thought, "they know me!" When I sat down, a little boy named Simon, who was about three years old, immediately climbed on top of my lap. I tried to push him away because he had this open wound at the top of his head, but then I remembered why I was there – to be their friend and to be their Ate. I allowed him to make himself comfortable on my lap and asked the girls who were screaming my name, "Bakit niyo ako kilala?" (How come you know me?) and to my complete and utter embarrassment, Joanna, the eldest of the group, replied, "Nabasa namin name tag mo, Ate Hanna!" (We read your name tag, Ate Hanna.)
I sat beside my new friends for about 2 and a half hours and occasionally breathed into my Sampaguita necklace when I needed to.
The whole time, they would just casually brush my hair, ask me questions about school and my family, poke my cheeks, and just enjoy the program together. I would talk to them about Jesus and how He loved everyone regardless of where they lived and what they did. Some of the kids told me that they used to live in BF Homes, and I asked them, "Where do you like it more, BF or Smokey Mountain?" Jenna, a cute girl with pink earrings, answered, "Smokey Mountain, because there's Sunday School every Saturday." I just had to laugh. They still call it Sunday School even if it's held on a Saturday.
My kids were part of the Smokey Mountain Choir called "Voices of Hope," and when it was their turn to perform, they were really excited and giddy. I was thinking, "What's the big deal? They're just going to sing." Then out of nowhere, Jomae popped up beside my right ear and whispered, "Kakanta na kami para kay Jesus, pero pumalakpak ka, ha?" (We will sing for Jesus. Can you clap?) The moment Jomae said that, I was convicted. I found them weird because they were excited to sing, but little did self-centered me realize that they were excited to sing for Jesus– not for me, not for the crowd, but only for Jesus.
As the program came to an end, and all the Krispy Cremes and tsinelas were given out, I hugged my new little friends good-bye and hopped into the jeep. Amidst the smoke, smell, and other sweaty and sticky volunteers, I thought to myself, "I will never forget today. Thank you, Jesus, for protecting these kids and making them feel loved."
And that, dear readers, was my Smokey Mountain experience.
Hanna Garcia is a freshman student taking up Educational Psychology at the De La Salle University-Manila. Because of the the outreach programs she has done with One Voice, she hopes to be a public school teacher when she graduates.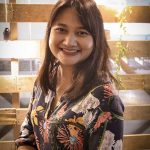 Janina Marie Rivera is the author of the book, A Night Bird Sings of Blindness and Fear and has co-authored the devotional, Dawns, published by OMF Literature. She is a contributing poet in the books Joyful Light and Whitmanthology: on Loss and Grief by Various Authors. She is the Editor-in-Chief of One Voice Magazine.