I am Sofia Frances C. Nagao and this is my story.
I first met my husband when I was in first year high school. I was a transferee back then, but I had already heard of him. The year was 2006. I was looking at an elementary graduation yearbook, and as I was browsing the pages, one picture caught my eye. It was of a boy with a charming smile.  "Jayson Nagao… hmm he looks gwapo [handsome]." And that's how my crush on him started.
Throughout high school, Jayson was vocal about his feelings toward me, but I shut him down, thinking that he wasn't serious. Also, having a boyfriend wasn't on my mind. I was too young. Plus, Jayson had gotten into a short-term relationship.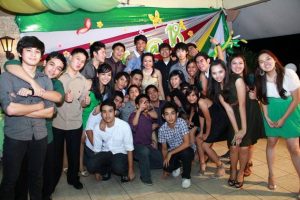 Fast forward—Jayson and I graduated from high school, and we went to different colleges. That was the time I realized I had feelings for him. We were still friends. On my second year of college, I heard that Jayson was migrating to Japan. I was saddened by the news. We never saw each other before he left. I think the last time we did was a year before his flight; the year when  Jayson visited our cake shop  on Valentine's Day, or was it at a batchmate's debut? I wanted to tell him about my feelings, but I knew it wasn't the right time.  He left for Japan, but we kept our communication ongoing.
It wasn't often that we'd chat with each other. Sometimes, it would be once a month because of our busy schedules, his work and my studies. Because of the span of time, we'd leave each other long messages.  Jayson confessed to me his feelings again via chat, but I told him that I couldn't entertain him since I still focused on my studies.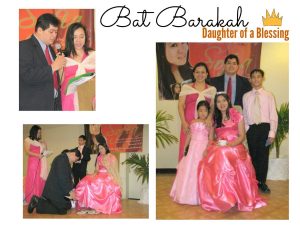 I also told him about my purity ring. You see, on my 15th birthday, while I was in my third year of high school, I had my "Bat Barakah," a ceremony which means "Daughter of a Blessing." It is the Christian Jewish tradition of releasing a girl to womanhood. I made a covenant with God and with my dad to keep myself pure for my husband and to wait for God's best for me. If anyone was interested in pursuing me, he was to go to the front door of my heart— my dad.
I still didn't tell Jayson about my feelings. We kept our friendship, and I introduced him to my dad. He added Dad on Facebook
When I graduated, Jayson flew back from Japan to the Philippines to ask for my hand in courtship from Dad. He first met with Dad, then we started our courtship. We would go out together with family. One requirement from Dad was that he would attend the Ancient Paths seminar. This he did, and that's where he learned about the importance of family blessing and identity. Guess who was his facilitator? Dad.
Jayson was also released to manhood. After the seminar, on exactly on the same day and after a family dinner, he said his first " I love you" to me and asked me if I could be his girlfriend. He quickly said that before I answered him, he wanted to have the blessing from my family first. Still on cloud nine from his heartfelt confession, I shared to my parents at home that I loved Jayson. Together that night, we prayed. On April 30,2014, with the blessing of my family, I answered "YES" to Jayson in front of my family. They all welcomed him, blessed us, and prayed for us. We officially became a couple!
The day before Jayson flew back to Japan, he also got his purity ring. He went back to Japan and there, our long distance relationship started. Being away from each other wasn't easy, but we thank the Lord because no matter the distance, He was the one who connected our hearts closer together.
In 2015, Jayson went home to visit me again. On our first year anniversary, he proposed to me. He knelt for quite a few minutes. I was surprised and asked, "Does Papa know?" Jayson told me that he met Dad earlier while I was at work, and together, they planned the proposal. Dad even hired a secret photographer to capture the special moment.
I said yes. We had our engagement blessing with our family and friends. They declared blessings and prayed for us in our new season of waiting, and also, together, we renewed our covenant of purity.
We decided to get married after two years. However, after a year, we felt that 2016 would be the year. It was the "Year of Jubilee" in the Christian calendar, as well as our own Year of Jubilee. We shared our plan to our family. We prayed and asked God for confirmation. Indeed, the Lord answered our prayers through His provision and favor. We finally became husband and wife on August 13,2016– the start of our blessed marriage.
How beautiful it is to wait upon the Lord! We are not a perfect couple. We make mistakes, too, but we have a God who is perfect. We also thank the Lord for our parents, to whom we are accountable. To sum it all up, our courtship journey was all about obedience— obeying and honoring God and our parents. I  believe that when there is obedience, there is blessing.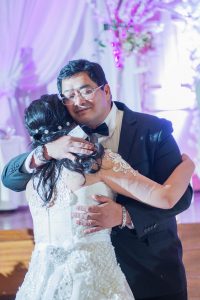 When you obey your parents in the Lord, not only will life go well with you, but you and your future generations will also prosper. So don't rush. Don't settle. Guard your heart and wait. Let God write your love story.  It is worth the wait. When you obediently and patiently wait for the one whom God has set apart for you, your story will be grander than any fairy tale or dream. All things will fall into place. God makes all things beautiful in His time for He is the Lord of All Perfect Timings.
You can read Part 1 of this story here.