We start our series on "Fighting for Marawi: Soldiers Who Dare to Dream" by delving into the story of Captain Aris Gerero. Read on to relive the war through his eyes. Discover the deadliest risks in war and the priceless gains it has given the multi-awarded captain.
The Marawi Siege—from a Commander's Viewpoint
The story of Captain Aris Gerero
Interview and words by Nicole Gusto
WAR IN THE CITY
Marawi City was in ruins. Bright buildings and busy streets turned into a labyrinth of burned roofs and bullet-riddled walls. Hellfire erupted in the streets, assaulting the town with black smoke, panicked screams, and the gunfire of the Maute-ISIS group.
The Seige of Marawi in May 2017 spanned five grueling months, the longest urban battle modern Philippine history had ever witnessed.
In the midst of the bloody siege, Captain Aris Gerero, Commander of the 9th Scout Ranger Company, made his way into the urban war zone along with 118 brave men. They had a mission in which other units had failed—re-take Dansalan College and establish a foothold.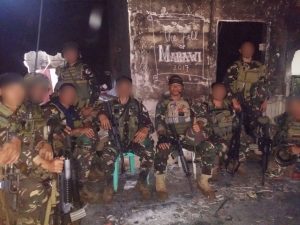 HEEDING THE CALL TO MARAWI
Two weeks earlier, Captain Gerero and his men held their station in Basilan. Serving there since 2010, the commander had earned various awards such as the Gold Cross Medal, the Military Merit Medal with Spearhead Device, Wounded Personnel Medals, Gawad sa Kaunlaran Medal, and the Silver Wing Medal among many others. He was involved in crucial missions such as securing the construction of the Basilan Circumferential Road, neutralizing foreign terrorists and bombers, and leading victorious campaigns against the Abu Sayyaf.
But all these awards came with experiences of trauma and grief. In one frontal assault against enemies, Captain Gerero witnessed a bullet spear into the lungs of his friend and classmate, Captain Cordero. He personally retrieved his friend's bloodied wedding ring to return to a grieving wife. In another firefight, the captain administered first aid to a bleeding soldier, only to witness that hero's life ebb away completely. These were only a few of his face-to-face encounters with casualties.
Death was always the most formidable risk a soldier confronted, but despite the bloody realities of war, Captain Gerero acknowledged that serving as a soldier was still a choice, a duty one volunteers for.
Once the order to fight in Marawi arrived, he and his men volunteered to face death once more. Gathering his troops, he encouraged them. "Mahirap kasi na maiiwan tayo dito na hindi tayo makakasama dun. We should be part of history na isa tayo sa magiging liberators ng Marawi."
All of his men were willing to go. "Ayaw nila magpaiwan," Captain Aris Gerero recalled.
They arrived two weeks after Marawi fell. From plane to bus and then straight to the war zone, the 9th Scout Ranger Company went to work. Their mission was to reclaim Dansalan college, the strategic choke point that the enemy had claimed as their fortress.
"Get this stronghold by hook or by crook!" the captain's superiors ordered him.
As commander of his company, Captain Gerero ensured that his men were trained and mentally prepared. They drafted strategies. Calculated risks. But more than just focusing on war tactics, the captain recalled how being a leader was also about boosting their morale. "Wala na tayong atrasan." He told his men, just before entering the fight. "Ito na yung hinihintay natin…Panindigan na natin para sa bayan."
The company commander spoke of how leadership entailed planting your feet right in harshest of frontlines with the men. "Kailangan nilang makita na kasama mo sila sa laban," he said. "Kailangan mo ipakita na consistent ka sa ginagawa mo. Otherwise, hindi ka nila paniniwalaan."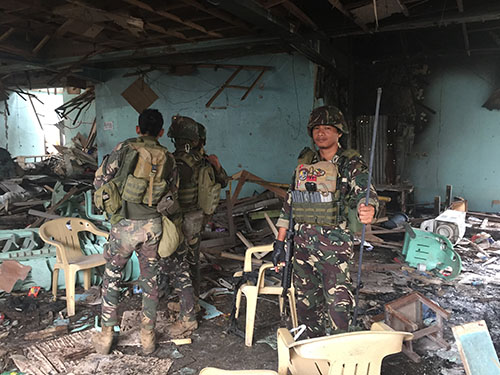 INTO THE BATTLEFIELD OF MARAWI
The battle ensued. Gunfire rocked the streets. The jarring noise of bombs and sniper gunshots echoed in the city. Military tanks rolled in, granting them cover. That was their cue. Captain Gerero and his men ran 50 meters of dangerous open space, infiltrating Dansalan College. Inside, they weaved past dilapidated classrooms and hallways. Patches of skies peeked from gaping ceiling holes. Most walls lay broken in rubble. And they kept moving. "Go lang nang go," the captain recalled. Scorched, broken walls and rubble filled entire sections of the college, serving as makeshift hiding places for both sides. The soldiers avoided gunfire and launched their own artillery at the enemy in determined strikes.
In the heat of the firefight, Captain Gerero admitted that thoughts of family vanished from his mind. The only thing that mattered was the present moment. The only one who mattered was the comrade who fought beside him. "You fight for each other. Walang maiiwan. Walang malalagas," he said.
Miraculously, they reclaimed the college in merely two days! Once they cleared the enemy fortress, the rest of the strongholds eventually fell, yielding to the military in succession like dominoes.  Two months later, Captain Aris' company cleared a block in only three days, even though most blocks entailed 1-2 weeks of fighting. The five-month war ended in decisive victory when they finally neutralized Maute leaders Omar Maute and Isnilon Hapilon. Captain Gerero and his men were part of the unit who took them down.
But the captain acknowledged that whatever "glory" in victory shouldn't be attributed to him nor to any man. It wasn't about how much they killed nor the recognition they brought home. "Di ko pwedeng sabihin na ako yung best na sundalo [na lumaban sa] Marawi  kasi di mo alam kung ano yung pinagdaanan ng iba, "he said. "Di mo rin kayang panindigan yan nang mag-isa. Team effort ito."
THE END OF THE WAR
In October 2017, the Philippine flag rose over the battle-worn city of Marawi, its vibrant blues, reds, and yellows heralding the end of the war. Mixed emotions tugged within Captain Gerero as he watched the nation's colors soar above the wreckage.
"Masaya na malungkot…" he recalled. "Maraming kaibigan [ang] nawala. [Maraming] kabuhayan ng mga tao [ang] na displace. [Pero] masaya dahil tapos na yung away at nauwi ko yung mga tropa [ko] nang buhay."
According to the captain, his real reward was never the glory, nor the fame. His true prize was bringing home all 118 men of the 19th Scout Ranger Company alive.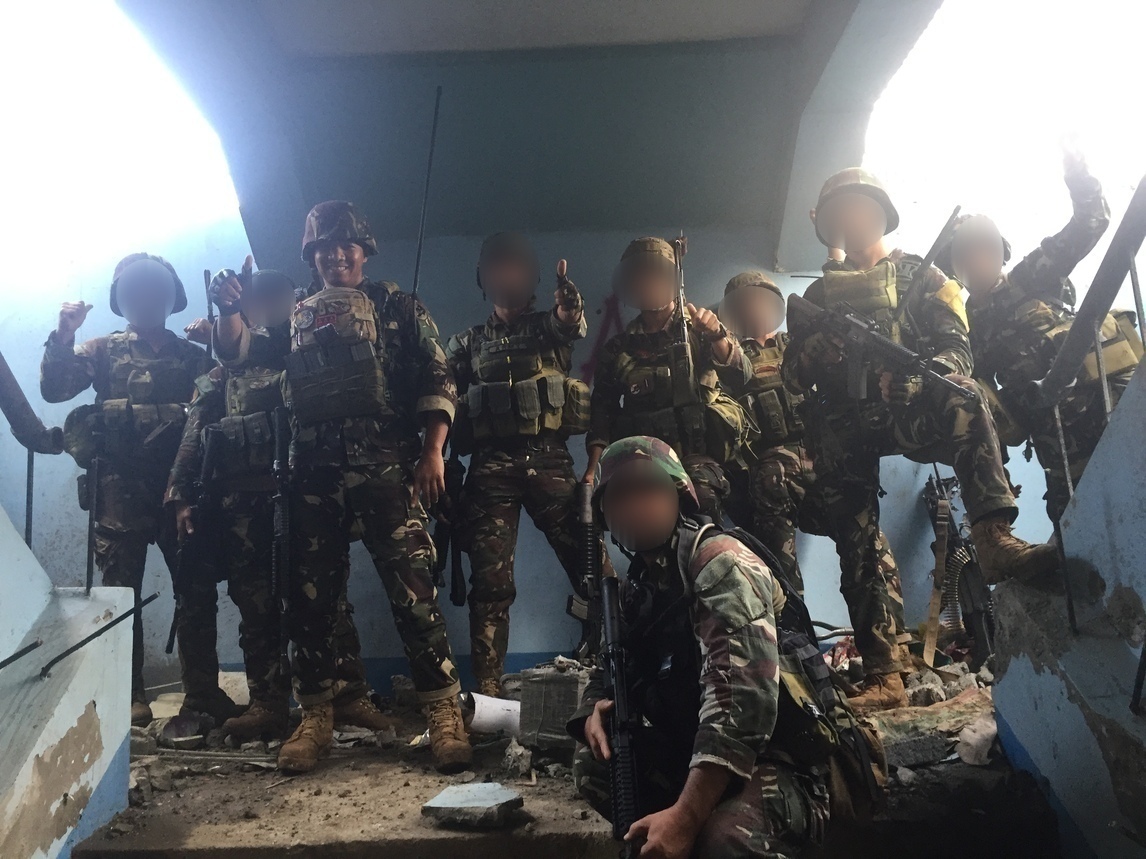 "Pride and honor ko yun na…lahat dun sa [dinala ko], nauwi ko nang buhay. Sa amin lang yung unit sa frontline na pag-uwi, buhay lahat." He said, remembering how other companies lost soldiers. "Pride and honor ko yung….pagbalik namin, kumpleto kami. Although may tama yung iba, buhay silang lahat."
In the same breath, the commander acknowledged that he was privileged and thankful to have worked with history's finest men. Camaraderie was one of the greatest treasures forged in the hellish pits of war."Bond forged [in] battle is an unbreakable bond," he said. "Unbreakable yan, kasi habang buhay mo, dadalhin [mo] yan…The Marawi experience is a bond [amongst us soldiers] that will never be broken."
At the present, Captain Aris Gerero is recommended to win the Distinguished Conduct Star for his services in Marawi.
*First published on July 30, 2019
Nicole is part-nerd and part-artist. She's a passionate speech pathologist, writer, dreamer, occasional ventriloquist, and a total geek for stories. She dances through words and writes to speak life to readers. She also regularly blogs at https://nicolegusto.com