The Face of Resilience: the Story of Major Emeterio Armada
Interview and words by Mizpah Aguilar
The Marawi siege, also known as the Philippines' longest modern-day battle lasting for five months, tested not only the strength of our military men, but more so challenged their resilience. This battle started on May 23, 2017, and changed the lives of the people of Marawi and those who fought to end this ordeal.
Known to be a city in Lanao del Sur and once a bustling center, Marawi now lies empty and abandoned. Its entire landscape of colorful buildings has now become the sight of rubble and ruin. In the midst of these are stories of men and women soldiers fighting for peace. 
One of the inspiring stories during the Marawi siege is that of Major Emeterio Armada. Raised in a military family, he dreamt of one day becoming a military man himself. "I have always wanted to be a military man. My father is a retired enlisted man. I grew up seeing him in uniform day in and day out, and I thought that his job was one I could emulate someday."
Major Armada was designated as the Logistics Officer and Company Commander of Engineer Maintenance Company of the 500 Combat Engineer Battalion, Philippine Army. He and his men were deployed within the Main Battle Area at Brgy. Lilod Bliss, Marawi City. Given only one week to prepare, they were one of the first batches of troops deployed when the crisis broke.
Asked what it felt like to be called for deployment and to serve during that time, Major Armada said, "Upon receiving orders, I set my mind on the mission and started talking to our troops regarding individual and unit preparations that needed to be done."  On June 3, 2017, they arrived in Marawi City.
Faced with the daunting task of leading his team into battle – a team mostly composed of men who had never seen action for most of their service—Major Armada showed exemplary leadership quality. "Our unit was newly organized then, and majority of our personnel had not been deployed out of Metro Manila, more so out of Luzon. Mental preparation for these troops was a test, but one that had to be swiftly overcome.  As an officer, I had to support my subordinates to get past that hurdle as well."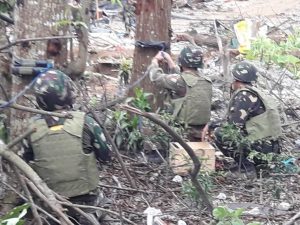 Major Armada and his men provided combat support to the troops within the battle area. They were tasked to clear the rubble in the major roads of the city. While the infantry troops were tackling the extremists one building at a time, Maj Armada's unit conducted engineer operations to unblock Mapandi Bridge from burnt vehicles and other wreckage so that armored assets could pass through. On top of that, he and his men freed up the street leading to the Bato Mosque from heavy debris, thus re-establishing the main supply route.
These operations helped in the success of the government's aim to bring back peace to the city of Marawi.
Major Armada had to do everything he could to support the troops in battle. During operations, he employed tactics and techniques as a Scout Ranger, utilizing the elite force training he had acquired in 2009 to keep his men protected from extremist snipers. He had to adapt to the situation and be resilient. He applied critical thinking in the midst of the battle and allowed for the abilities of his men to operate at full potential.
Major Armada also had to find ingenious ways to bring supplies to his entire unit, which included food, fuel, ammunition, personnel protective equipment, and even personal individual requirements. His training in Resource Management aided him to exhaust all means to get the supplies to where they were needed. Intensive coordination with those in the rear of the battlefield, securing supplies during transit, and ensuring the safety of those bringing these logistical requirements – these alone were already feats that Major Armada and his men accomplished during the crisis that was Marawi. It was extra challenging for his team because most of them had none to very little experience in this kind of battle.
The lack of easily available equipment and the unstable situation of the city posed a great threat. Major Armada gave combat support to the cavalry troops, while also giving equipment and clearing operations for the infantry and artillery troops. For Major Armada, the trust and confidence given to him to lead his team meant expending all possible resources to help in the battle.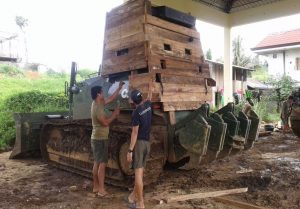 Supply and how it was managed during the siege meant everything. "You win and lose a battle with the amount of supply you have," reflected Major Armada.
Remaining resilient in battle and being true to the task, Major Armada said this: "The lack of equipment, especially personal protective items due to operating troops, was one we could not do without. It just showed how much the organization needed to improve in terms of readiness. Also, since our unit was performing combat support within the main battle area, the requirements of the supported units were overwhelming, but we could not give up."
He then continued and said, "Overall, my experience in Marawi was both challenging and humbling—if there is such a thing. The brotherhood and camaraderie among those deployed in Marawi was one of the best experiences I had, and one I could look back on. I was able to meet old comrades whom I shared training and previous deployments with. Finding a familiar face amidst the chaos in a war was a rare and rewarding moment."
Today, Major Armada is assigned as an Administrative and Budget Officer at the Training Support and Services Center of the Training and Doctrine Command, Philippine Army. His unit facilitates the logistical requirements of schools that train the majority of Army personnel. For Major Armada, the Philippines is worth fighting for because of the countless lives that have been lost defending and fighting for the country. It is like paying tribute to those who have gone before us. In his words: "Their sacrifices and that of their families should not go in vain. Also, the richness of our culture, its wonders, the vastness of our resources and most of all, the smile of our people, are more than enough reasons to fight for our country."
The challenge to stay resilient in war and the battle of our lives may go beyond the Marawi siege. Major Armada proves to be a true hero in his own right – a true face of resilience.
"A hero is one who is able to overcome his weaknesses and obstacles, and still make a difference in the environment he is in." – Major Emeterio Armada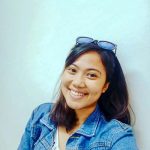 Mizpah Eunice Aguilar is a Bicolana native who loves everything Jesus, anything coffee, and basketball. She is also a firm believer that writing is God's gift to His people, which can be used for His glory!  She is currently based in Naga City and is a College Faculty member at the Ateneo de Naga University. She also serves as the Cohort Advisor for SUM Bible College and Theological Seminary.