Iran is one of the countries hit hardest by the Corona Virus. The country's countless believers were affected. But they don't despair. They are more active online than ever. Online worker Salomeh* shares how the Christians are doing.
For most Iranian Christians, going to a building they call a church is a lost dream. They secretly gathered in their houses with several believers until COVID-19 came.
"As soon as the outbreak of the virus was announced, we stopped all our face-to-face house church meetings," says Salomeh. "Everyone is obeying the rules and doesn't even visit his or her family."
Can a secret church continue to exist under a lockdown? If it wasn't for online tools and available workers it would have been extremely difficult.
With your support through partners, the opposite is now true. Salomeh says, "In this time of crisis, we have over 10 hours of prayer meetings every day. We created a special prayer schedule that we call 'Frontline' where prayer members can virtually walk in and out to come to pray together."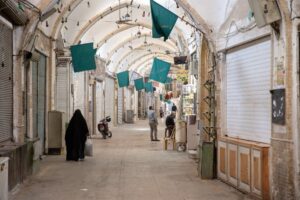 "Serving an online community is a 24/7 job," says Salomeh, and this is especially true in the crisis. "Our people are now sitting at home all day long. We help them overcome fear and anxiety and spend extra time with them individually. Apart from teaching, prayer, and worship sessions, we also have group meetings in which we share our testimonies to help us deal with the reality of these days."
Salomeh emphasizes how happy she is with the support that she received through partners. "Your support and prayers result in the growth of the kingdom. The church in Iran is still alive, even though church buildings are closed, even though a pandemic is terrorizing our country. I pray that one day, we will all be standing in front of God's throne knowing we've done our part in the Kingdom."
The COVID-19 crisis makes secret Christians more isolated than ever. That's why, through our partners, we are stepping up our online presence for Iran and Middle Eastern countries. Your support is vital to make this possible for all who need it.
*Salomeh is not her real name
Open Doors began in 1955 when a young Dutch missionary named Andrew Van Der Bijl (known today as Brother Andrew) went to then-Communist Eastern Europe. He met Christians in desperate need of Bibles, prayer support, and encouragement. There, he had received a calling from the Lord – to strengthen what remained (Revelation 3:2).
Brother Andrew smuggled Bibles and Christian literatures into dangerous places, encouraged persecuted believers, and recruited people to help him. The ministry expanded and became an international organization serving in over 60 countries.