The Obo Manuvu
The municipality of Magpet teems with the richness of tribal groups, most notably the Obo Manuvu. Theirs is a tribe expressing God's creativity in the Philippines through their language, lifestyle, and art forms like dance and song.
The Creator of Heaven and earth certainly has a deep affection for those who are tribu. We see this in the encounter of John the Beloved in Revelation 7:9:
"…Behold, a great multitude that no one could number, from every nation, from all tribes and peoples and languages, standing before the throne and before the Lamb, clothed in white robes, with palm branches in their hands."
The tribu in Magpet have a unique voice of worship, and Heaven's worship would be incomplete if their sound were absent.
The Ethno-Linguitic Groups in the Philippines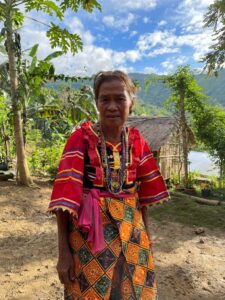 In the Philippines alone, there are 110 ethno-liguistic groups. They vary in their habitats, culture, and dialect, among others. The Manobo tribe inhabits areas like Sarangani island, Agusan del Sur, the Davao provinces, and North and South Cotabato. They occupy both coastal areas and mountain highlands. They are classified into subgroups like the Ata, Bagobo, and Higaonon. Also, they are headed by a Datu, or chieftain.
The Manuvus are distinctively known for their rituals and narrative songs. Nature is close to their mouths as they create sounds mimicking their environment, sometimes using ingenious methods such as producing sound from a singer's armpit. These beautiful people are a people of the soil–they see their land as an extension of who they are.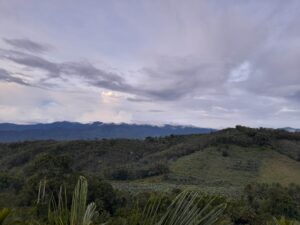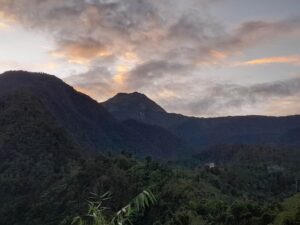 In their spirituality, the Manuvus celebrate the Sunggod Ta Kamanga or "feeding the whetstone." They do this to prepare their land for farming, including their tools, by having a ritual to Magbabaya or God. This is formally opened by the manubad, or ritual leader, who seeks for guidance from their god and their ancestors. This is followed by pouring out the blood of chicken onto their tools. These are known as the Panalagbuta Ritual– one of many rituals.
The Church
What would happen if the Church took the lead in encouraging the tribu and discipling them in the ways of God? What if the arts and culture of the tribu aligned with the teachings of the Bible, without once losing their uniqueness as tribu?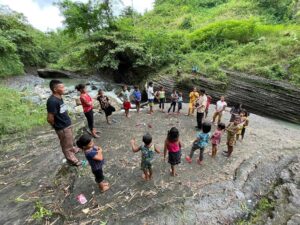 With this hope comes a great responsibility for us. Are we willing to make room for the tribu and their voice in our lives? If they are important in Heaven, then they should be important to us here on earth! It is for this reason that One Voice Magazine is launching Ini Kos Konamin Tanong Buwis "This Is Our Land" workshops in Magpet, North Cotabato this July 11-14; 17-20, 2023. We want to encourage the tribu, particularly the Manuvu to preserve their culture and expand their voice. We want to see them worship the Lord in a way that only the Manuvu can!
Do we see the tribu as important? Dare we even go?
Not all of us may be tribu, but  together with them, we can cry out in the beauty of unity: "Dalaygon ang Dios nga nagalingkod sa trono, ug dalaygon usab ang Karnero, kay giluwas nila kami gikan sa silot!" (Salvation belongs to our God who sits on the throne, and to the Lamb!). This is one of the songs of Heaven, and it is a song that we can all learn to sing even now
Editor's Note: Certain spellings such as "Manuvu" for "Manobo" and "tribu" for "tribo" are recommended by their culture bearers.
Sources: