I was reading Psalm 100 a few days ago and saw an interesting description of God in verse 5:
For God is sheer beauty,
all-generous in love,
loyal always and ever(MSG)
Sheer Beauty. I had to stop for a moment and think of this. What is sheer beauty? The closest picture I could think of was the sun rising, its brilliant rays piercing the sky in a natural mosaic of red, bright orange, and pink. Sometimes, royal purple comes into play, whirling me in wonder.
We know God is glorious and mighty and powerful, but have we tried asking Him to show us how beautiful He is?
I know it's hard to attribute beauty to Someone we have never seen, but think of it this way: we live in a world surrounded by beauty, and these beautiful natural wonders were planned for and given life by a Beautiful God. Trees, flowers, mountain tops, pristine rivers, stars… do we pay attention to all these beautiful things around us? How about when the wind hits our faces with coolness on a hot, difficult day? Do we take that for granted? These wonders have God's fingerprints on them, and they ought to make us believe that a Creator truly does exist. And He can only be beautiful as our Living God because what He made is beautiful.
Speaking of wind, there is a kind of wind that I love.  This is the whisper of the Holy Spirit's wind in our hearts; the soft whisper piecing us back again, telling us that we are worth loving; worth giving life to. Isn't it beautiful when we hear God speaking to us? When He tells us that we, too, are beautiful? That He planned for us? That He has a destiny for us?
In One Voice Magazine, one of the things I love to emphasize to our team is to listen to the Voice of Him who matters the most. It is the beautiful voice of the Beautiful One.
The messes of our past years can be transformed into beauty by the Beautiful One. The brokenness of our hearts can be mended by the Beautiful One. The best dreams for the future can be given to us by the Beautiful One. Every parched desert in our lives can tremble with hope and beauty when our own voice finds His. Therefore, like John the Baptist, we cry even in our wildernesses,  "'Prepare the way for the LORD's coming! Clear the road for him!" We do this because we know that Jesus is the Beautiful One; our Savior who gives hope; the King of all Kings who is high and lifted up!
This 2019, let us be conscious of inviting sheer Beauty to step into our lives—our dreams, our pain, our hopes, our plans, our projects.  We have 365 opportunities for Jesus' SHEER BEAUTY to transform each day into beautiful. Let's not waste this!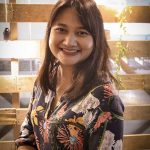 Janina Marie Rivera is the author of the book, A Night Bird Sings of Blindness and Fear and has co-authored the devotional, Dawns, published by OMF Literature. She is a contributing poet in the books Joyful Light and Whitmanthology: on Loss and Grief by Various Authors. She is the Editor-in-Chief of One Voice Magazine.