Almost exactly four months ago, something happened in the schools of the Philippines. Read below the account of Mutya Torres.
November 30, 2011 marked not only the 10th year of Jesus Revolution as a movement; it also marked a day of spiritual awakening and revolution in the campuses of our nation. Campus Awakening 2011: See. Pray. Move. led the students to see clearly that their campus is their inheritance; that they were to pray and prepare for revival, and to move as catalysts for change.
The solemn assembly was a real display of sacrifice. The commitment of those who came was shown as students chose not only to pray and fast, but to cry out to God under the heat of the sun. They continued, even as the weather changed and rain poured from the sky. It was such a glorious sight to behold!
Moreover, these students took their commitment to see revival happen in their campuses to the next level. Hundreds upon hundreds signed-up to hold Rock Revolution Nights (an evangelistic gathering for students) in their respective schools. Different school-based Christian organizations signed-up to commit to pray regularly for their respective campuses—together with other organizations. Most of those who came– if not all—signed up to attend the Nazirite Training (a training on living a lifestyle of humility, holiness, and hunger for God)  to get equipped and ultimately become the change they cry out for.
For God and for this generation, the Revolution continues.
Jesus Revolution Now!
Photos by Johan Andrew Ocampo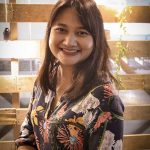 Janina Marie Rivera is the author of the book, A Night Bird Sings of Blindness and Fear and has co-authored the devotional, Dawns, published by OMF Literature. She is a contributing poet in the books Joyful Light and Whitmanthology: on Loss and Grief by Various Authors. She is the Editor-in-Chief of One Voice Magazine.