"The instrument was shaped like a bowl, and it was made out of metal. A wooden ring wrapped the bowl. Connected to the wooden ring were 30 strings that stretched from the outside of the bowl toward the middle. It was so fascinating! I leaned in, looked closely at the instrument, and then received a full "download" of all its  dimensions. The chief put the instrument down on a table and began to play it. Heavenly music filled the air…"
To read more Caleb's story, go to onevoicemagazine.com.
This was first published in One Voice Magazine on Sept. 26, 2019.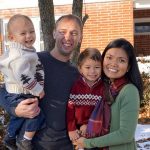 Caleb and his wife, Gladys, are passionate for Jesus. Their focus is to partner with God in bringing His Kingdom to the earth. Caleb and Gladys focus mostly on mentoring and discipling indigenous leaders who will go to their own people and bring them life from Christ Jesus. Being the founders of Evergreen Missions, they steward a team that focuses on reaching the unreached people by expanding God's Kingdom of love and developing strong Biblical-based foundations for the next generation. Caleb and Gladys are ministering the Father's love to the indigenous, training and equipping leaders and pastors for the end-day harvest.