He started hitting me physically. I was in disbelief. I couldn't believe it! How could someone hit me like that? I cried and kept it all to myself. I thought being hit must have been my fault because I angered him. It must have been my fault because I wasn't able to help him control his anger. He apologized and promised never to do it again.
The hitting continued.
An End to the Relationship
I soon found out that the man I was engaged to was messaging other girls. I was done! I didn't leave him physically yet, but my mind and my heart were already numb. I resolved to get over him. One day, after another incident where I saw him messaging another girl, I finally left him. My prayer then was that God would give me the strength never to look back.
While I was hurting, I slowly realized how much pain I had caused my Heavenly Father. I repented of my sins against God. I realized that the bad decisions I made in the past led me to this moment. I found myself telling God that I was never entering another relationship. Never! I demanded for Him to love me everyday.
Meeting the Greatest Lover
I didn't want a theoretical kind of love, but a love that I could really feel physically and emotionally. I told God, "Renew Your love for me every day. I want to feel it. It's just gonna be You and me forever, God. No more boys, no more men, no more girls, just You and me." I was desperate to feel my worth. I was desperate to feel loved.
I went back to spending my quiet time intentionally with the Lord. I started falling in love with Him again. Every time I felt really lonely, I prayed and worshipped God. And I started praying for a ministry.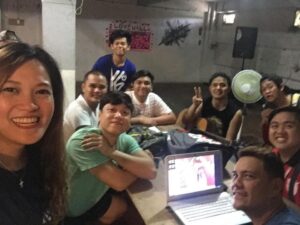 Meeting God's Man
It was December 30, 2015, when I was invited to speak at a youth camp for Ablaze Christian Ministries. During the altar call, I opened my eyes and saw a man who was on his knees, praying. He was crying and laughing at the same time. I told God, "I know I said no more men in my life, but if ever You give me one, I want a man exactly like that. I want a man who loves You and worships You with so much passion and abandon." I later found out that this man was Rod Beltran, the Praise and Worship Pastor of the church.
Little did I know that when I pointed Rod out to God that day, it was actually Christ pointing him to me!
I was surprised when Rod started messaging me because I never really had any interaction with him. We became friends, but I wasn't interested in him romantically. One day, he asked if he could court me. I told him he didn't know who I was. If he found out what I had been through, I doubted that he would want me.
Love & Grace
But Rod said he wanted to get to know me more. One evening, we met and I told him everything about me. Everything. It was the first time that I brought myself to talk about what happened to me. He asked me, "Bakit, meron pa ba? May sakit ka pa ba?" I told him, "No." Then he said, "So, anong problema?" When he said this, relief washed over me. I couldn't stop crying. How could someone so graciously accept me for everything I am? I asked myself. I couldn't believe he would still want to be with me. I felt so small. I was still full of doubt.
He said he still wanted to pursue me! I told him that if he seriously wanted to be with me, I had one condition: NO premarital sex. I made my stand clear. I was so tired of compromising, and he agreed without batting an eye.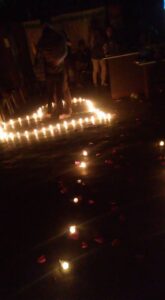 Pursued & Cherished
On Valentine's Day, Rod surprised me with a DIY dinner setup in a room full of candles. He led me to the room with music playing in the background, and I couldn't stop crying. I kept praying, "God, I don't deserve this guy. I don't deserve all of this. I don't deserve this love. I don't deserve this." Amazingly, while Rod embraced me, he kept saying, "Liz, you deserve all of this." I felt God telling me, "My daughter, this is how much I love you… ."
I finally understood God's Grace. In my brokenness, fear, and shame, God showed me through Rod how much He loved me. Even when I felt I didn't deserve to be loved, even when I was so full of shame, God loved me.
He still does.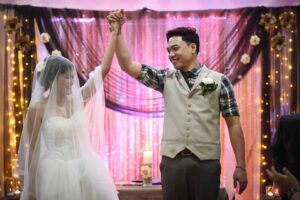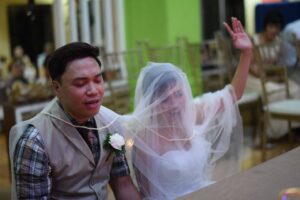 God is My Redeemer
Eight months after we met, Rod and I got married on August 12, 2016. It was my 29th birthday. We now have two babies, Zia and Matt.
Because I grew up in a Christian community, I was so used to hearing about God's love, God's grace, God's mercy. I grew up knowing that Jesus loved me. But I never really understood what that meant. My brokenness led me to be more intimate with Christ. My brokenness led me to trust and rely solely on Him alone, allowing me to see the fullness of His Majesty and His Grace.
Being in a relationship after the abuse was difficult. I had to deal with so much anger, frustration, paranoia, and pain.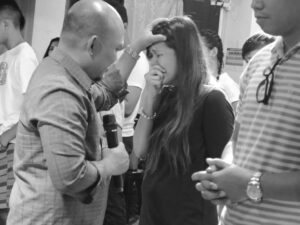 Admittedly, healing and forgiveness were not instant for me. Even after I married, I still had to deal with anger and unforgiveness toward my ex-boyfriend. The thought of bumping into him and seeing him again brought out so much anger in me. But as time passed by, and as God's love continued to fill my heart, the anger and the shame I had began fading away. God's love and my husband's love soon replaced my anger, unforgiveness, and shame.
God is My Healer
By God's Grace, I can now say that God has healed me from the pain of my past. I have already found peace, and I have completely forgiven my ex-boyfriend for everything that happened between us.
My husband's love for me is a constant reminder of God's Grace. Rod's love for me never fails to remind me how much God loves me. Though I am not perfect, God loves me the same. Of course, both Rod and I are not perfect, but as long as Christ is in our marriage and in our hearts, we know we can overcome anything together.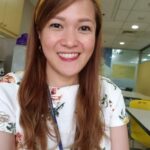 Zilpah Beltran is joyfully married to Pastor Rod Beltran, the Associate Pastor of Ablaze for Jesus Christian Ministries. They have two kids, Zia and Matt. Zilpah graduated Magna Cum Laude with a degree in Political Science, after which she proceeded to finish a Law Degree at the Far Eastern University. She currently works as a Senior Sales Manager at the Security Bank Corp.