Written by the Daughter of A COVID-19 Frontliner
There were several moments over the past few weeks when I would cry over the thought of losing Papa. He is a doctor whose specialty is in Infectious Diseases at the Philippine General Hospital (PGH).
Perhaps I'm just being a drama queen, or perhaps I'm overthinking, but I do struggle with real fear because Papa fights at the frontlines everyday. A few of his colleagues have already passed away. As of this writing, they're expecting an influx of patients to enter PGH.
We praise God for His protection over Papa. He's been healthy so far. I thank God for meeting my family and me in those instances when fear would cloud our minds. God's Word has brought comfort to our hearts and continues to do so. God is and will always be gracious and faithful in all seasons.
We're also thankful for all of you who have kept my family in your prayers! Thank you for praying for the frontliners. Maraming, maraming salamat! (Thank you very much!).
As I share this song cover of "No Fear in Love" by Steffany Gretzinger, I hope that it encourages others. I'd like to extend my special thanks to Kim Hernandez, the guitarist in this cover. He ministered to me by making me study this song and by reminding me to trust my good Heavenly Father at "umiyak nang maigi (cry properly)."
The lyrics of this song and its reference to 1 John 4 are things that I have to preached to myself, especially during the CoViD-19 pandemic.
You, dear children, are from God and have overcome them, because the one who is in you is greater than the one who is in the world. 1 John 4:4
I extend this same exhortation to anyone who's been anxious and fearful. May God's perfect love fill your restless heart.
Article & Vocals: Nicole Grace Lim
Guitar: Kim Hernandez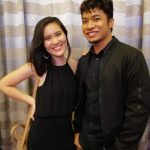 is an early childhood educator by profession and a Kids' Church teacher and worship leader at her home church, GCF South Metro. Find her on Facebook for more song covers with her musical family and artist friends.
Kim Hernandez is a singer-songwriter from the southern part of Metro Manila (Muntinlupa). Born and raised in a musical home, he developed great interest and love for music, eventually taking the path of making music as a career. He's currently a college instructor, teaching music-related subjects such as songwriting, arranging, and piano. Follow him on his socials @kimhernandezmusic