It feels wonderful writing again, especially since this year, 2018, is a year of New Beginnings. Our stories have a new area of visibility, which is online. We have always kept a website and Facebook page "on the side," but these cyber avenues will now be our main platform to converse with you.
One of the first things you can see is that our logo has been tweaked. The word "MAGAZINE" appears inside a conversation bubble. We do not want the confusion from the past where One Voice was mistaken for a singing group. We worship God, yes, but we are primarily a magazine.
So what is new with One Voice Magazine aside from our new look? One Voice Magazine is embracing new staff and volunteers. We have a new line-up of stories for this year and new mission goals to reach. We also have a new page, a donor page, and new entries like devotionals and video articles to water your soul. More importantly, we have a new and fresh desire to lock shields with you to impact our cities once again.
The foundational identity of One Voice Magazine remains the same. We are still a magazine whose mission is to create and publish stories of hope so that young people can impact their cities. Just like when we started publishing in 2009, we still stand for unity. We still stand for transformation. And we believe that both unity and transformation should start among us first before we can spread these things outside ourselves. As we write with the pen, we recognize that our lives are our constant letters to the world.
Because of this, may I invite you, our dear readers, to dive with us in story creation and story living? We want One Voice Magazine to burn in your hearts and inspire you to dream with God for your cities. In Isaiah 61, there is a righteous company of people anointed by the Spirit of God. They are people who are called oaks of righteousness for the display of the Lord's splendor. These people are described as those who rebuild ancient ruins and renew ruined cities, restoring the places long devastated.  We at One Voice Magazine raise our hands in agreement, standing with you and others whom God is raising up all over the world to say, "Yes, Lord! That is our job description!"
May you be inspired to be God's soldier in these times of trouble, a co-writer, and a rebuilder of cities where hope, unity, and transformation are desperately needed.
One with you,
Janina Marie Rivera
Editor-in-Chief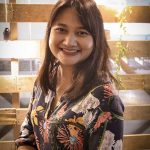 Janina Marie Rivera is the author of the book, A Night Bird Sings of Blindness and Fear and has co-authored the devotional, Dawns, published by OMF Literature. She is a contributing poet in the books Joyful Light and Whitmanthology: on Loss and Grief by Various Authors. She is the Editor-in-Chief of One Voice Magazine.