I grew up as a kid in Sunday school and met my Heavenly Father and my Savior Jesus there. Through the hearing of the Word, God placed a hope in my heart that beautiful things could happen to me. But at the age of eight, my parents separated. Before I finished high school, my father died of stomach cancer. My mother ended up in a tailoring business to support me and my sister.  My older siblings were already living independently.
My eldest brother talked to me about stopping my studies for one year before continuing on to college, but I still insisted that I pursue my education. I kept asking the Lord about His will for my life until I was successfully enrolled in school.
I took up Bachelor in Elementary Education, major in Special Education at Easter College. During this time, I became familiar with disapproval from other people around me and experienced a lack of provision. My first semester started well when it came to my academic performance, but the next semester made me feel so hopeless in qualifying for a scholarship. I failed to obtain the required grade for two subjects, and I experienced the worst scarcity of provision unequalled throughout my college stay.
But as gold is made precious in the darkest regions of the earth, so it is when God transforms a man to become better in difficult times. Dr. Brian Bailey, the author of The Bride, wrote, "The purpose of our trials is to work out His purity in us. Trials are the fire that purifies the gold and the water that washes and cleanses us from all impurities."  God allowed me to see the things that needed to be surrendered and changed in me.
Despite my dismal performance, I was still tasked to submit my requirements to the dean, who after a few months, informed me that I was the only one chosen among the scholarship applicants. I learned that we sometimes attain things undeservingly so that we might not boast about them but be humbled by them.
In Deuteronomy 8: that time and forget the Lord your God, who rescued you from slavery in the land of Egypt. Do not forget that he led you through the great and terrifying wilderness with its poisonous snakes and scorpions, where it was so hot and dry. He gave you water from the rock!  He fed you with manna in the wilderness, a food unknown to your ancestors. He did this to humble you and test you for your own good.  He did all this so you would never say to yourself, 'I have achieved this wealth with my own strength and energy.' Remember the Lord your God. He is the one who gives you power to be successful, in order to fulfill the covenant he confirmed to your ancestors with an oath."
Many of my frustrations were due to my limitations. There were many nights when I only had three hours of sleep during my practicum. I didn't make a good first impression on some teachers because I was simply too weak from staying up late. My asthma also made it difficult.  I could have done better in presenting my lessons with more instructional materials, but because of my condition, I was so limited. I cried to the Lord when one teacher disapproved of my work. it was the Lord who made it possible for me to perform well.  He gave me the strength to do better. I eventually received my teacher's commendation.
I graduated and passed the Board Licensure Examination for Professional Teachers in 2016.  I once dreamed of simpler things, but now that I have a greater understanding of the Lord, I can dream bigger because of Him.
In John 4:10, Jesus talks about our boldness to ask from Him as we believe that He is able to give us what we need.  "If you know the gift of God and who it is who says to you, 'Give me a drink,' you would have asked Him, and He would have given you living water."' The verse speaks of knowing who He is and what He can do. God wants to give us something that has eternal value instead of the temporary things. We don't have to settle for the water in the well, which cannot quench our thirst forever.
God has so much in store for His children. We just need to trust Him during difficult trials, and we should believe that He wants us to ask from Him.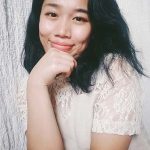 Jeanine is just a simple person who enjoys most of her time serving the Lord in the church and in the community as a teacher. She is greatly interested in arts, adventure, reading, and writing articles about the Lord.