By Federico Roa
The Renaissance Era in history was a period of enlightenment and rebirth. It was the climax of culture in Europe. In this age, art and science flourished, and people started to appreciate various forms of visual expression such as painting, sculpture, and theatre. It was the age of "awakening"; the age when Europe brought life to the world.
My college years were comparable to this era. I "bloomed" and was given the opportunity to reach my full potential in every kind of art form I knew.
When I took up my major subjects in Communication Arts, the true artist in me came out. We had video and broadcasting classes where 60 percent of our time was spent shooting inside our studio, while the other 40 was either on lectures or on field trips. We also had photography classes where we were taught to develop pictures in the dark room. I was inspired, and excelled in all my major subjects. I also made use of my talents in drawing and music. In addition, my penchant for reading books came in handy, since we had to read loads of articles and write several scripts for film. In our photography classes, my professor would often quote my works as "ground-breaking" images captured in time.
In September 2004, I truly accepted Jesus to be my personal Lord and Saviour. It was the first time that I truly felt peace. I should say that I was on a "spiritual high" during this time, feeling that Jesus was just one call away. I was consistent with my devotional time with Him. I had the genuine desire to know Jesus more and more. But soon, the fire started to die down. I went back to my vices such as smoking, drinking, and bar-hopping with old pals who were not good influences. It felt really awful going to church on Sundays, while living a double life for the rest of the week. All this time, I felt like a hypocrite– like a Pharisee showing only the good things outside, but who was rotten and blemished on the inside.
My college Renaissance era would not be complete if it weren't for a significant other, or one whom I would consider "my first love." It was during my junior year in college when I had my first girlfriend. She was a close friend, and we spent a lot of time together. I remember that every time our eyes met, we'd smile at each other. One night, during a student organization party, I asked her to be my girlfriend. She was surprised and giggly. It was a night we both cherished as we walked under the pale moonlight, while holding hands for the first time.
Things did not work well for both of us. We began seeing our shortcomings, and the more we spent time with each other, the more conflicts arose. At that time, I thought that the only way to make up for the quarrels was to get physically intimate with her. Needless to say, we compromised our purity and disobeyed God. I felt that I was unworthy of His blessings, for I had made my girlfriend my god. Slowly, God was revealing Himself whenever I could not sleep at night over a petty quarrel.
Finally, I decided to cut the relationship. We broke up, and it took me eight long months to recover totally. I had to defer my thesis because of time constraints and lack of focus. My nights were wasted because of hurtful words exchanged over the phone. My parents were very much concerned with the way I spent more time with my girlfriend than with them, but they never argued or forced me to cut the relationship.
I felt that depression was slowly creeping in. I also allowed one of Satan's overused weapons called "discouragement" to ruin me. However, God remained faithful despite my stubbornness and rebellious heart. Jesus reminded me that there was more to life than what I was going through. My friends from church kept encouraging me to come back and serve in our campus ministry. My best friend kept talking to me even in the wee hours of the night– just to help ease the emotional pain. A very close friend from church would listen to all my rants and would also see me cry over the breakup.
Despite putting Jesus on the back burner, He still stuck with me. The pain got my attention, alright.
Today, I serve the Lord through music in our church in Eastwood. I am also part of a band named One+Mile, where my band mates and I compose and perform Biblically-inspired songs in bars and secular events. I also write about God's faithfulness whenever I have the chance to (and yes I'm grateful to be given the privilege to write an article about God's faithfulness for One Voice).
Although my ex- and I have not fully come into closure, I believe that the best is yet to come, and that God will allow us in time to become friends again. For now, I live one day at a time, knowing that Renaissance doesn't have to happen only once in a lifetime.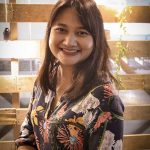 Janina Marie Rivera is the author of the book, A Night Bird Sings of Blindness and Fear and has co-authored the devotional, Dawns, published by OMF Literature. She is a contributing poet in the books Joyful Light and Whitmanthology: on Loss and Grief by Various Authors. She is the Editor-in-Chief of One Voice Magazine.