The Story of Ronnie Ventayen:
A Cry for Help
Help came from a teacher who found out about the rape. The teacher was the school adviser of Ronnie's younger sister. The teacher reported the rape to authorities and aided the siblings in filing a complaint against their grandfather. As a result, Ronnie and his siblings packed up and left. They lived with one of their neighbors while their sister went to the Department of Social Welfare and Development (DSWD).
Life at this stage was extremely difficult for Ronnie. He carried his personal pain alone, while manning up for his siblings. He resorted to theft and shoplifting to provide his siblings with food. Whenever he gathered enough food, he visited his younger sister at the DSWD. It was one thing to visit her there, but another thing to leave her after every visit. Ronnie felt his heart break every time he left his sister. They both did not know when they would see each other again—if there was going to be a next time to see each other.
The Darkest Season
With the family in shambles, Ronnie's father returned again; but this time he was sick and bedridden. Ronnie's younger sister in social care was adopted by a family who also abused her sexually. With Ronnie older sisters far from them, the other younger siblings held on to him for dear life. Ronnie found himself frequently running to the river to cry.
Many troubles filled his heart and mind; questions that demanded answers; doubts that longed to be disproved; worries that yearned to be eased. He wept and wept. And the river flowed and flowed with his tears. The gushing river drowned the sound of his anguish.
Drawn to the Business of Cybersex
When Ronnie was fourteen years old, all seven Ventayen siblings reconnected. For the first time in years, they were complete. During this time, Ronnie was working as a mani and chicharon vendor and as a dishwasher in a lugawan. At least now, they were all together.
They were barely getting by, and it continued on like this until 2009, when a high school friend introduced Ronnie to the world of cybersex.
With cybersex, one could earn as much as Php 100,000 in a day. Ronnie fared well in this career and played the part well. He dressed up as a woman and took some hormones to look the part. He had many foreign boyfriends and received daily, weekly, and monthly remittances from them. He didn't mind the job as long as his family's needs were met. Since Ronnie became lucrative in this trade, he alleviated his family from poverty. Not only were their needs met, but also their simple wants.
Alongside his cybersex career was also a man Ronnie lived with. It seemed like Ronnie finally figured out his life– he had a home with his lover, and his self-proclaimed purpose of providing for his family was fulfilled through his well-paying career. But everything crashed once more when his lover of eight years cheated.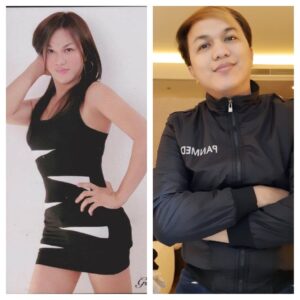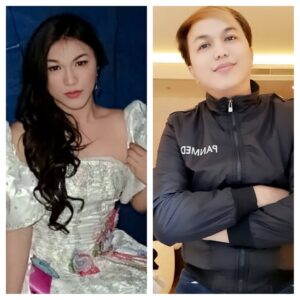 The Worst of Breakings
This became the lowest point of Ronnie's life. He fell into depression. Nightmares stole his sleep. He couldn't eat, and so he resorted to alcohol. Panic and anxiety attacks gripped him. Pain from the past resurfaced, crashing over him like a storm. He was hollow and empty. To be abandoned, rejected, and unloved? The harsh reality overwhelmed him; he attempted suicide. He tried jumping off a building. He tried cutting his wrist. He was in and out of the hospital. He was depressed. All he wanted was a home that loved him, but he searched for it in the wrong places.
A Complete Answer to One Bold Question
"Mahal ka ng Panginoon." ("You are loved by the Lord.") Ronnie wept upon reading these words from a Facebook comment on his post. His memories brought him back to that happy moment when he and his siblings sang and danced at the church service.
At the commenter's invitation, Ronnie, together with his two gay friends, attended church one fateful Friday. Dolled up and dressed up as women, they entered the church sanctuary that was decorated in love and red. It was a Valentines' youth special. When service started, he experienced the same singing and dancing from his youth and so much more. He felt comfort. He felt peace. He felt… home, and he felt loved. On that day, Ronnie accepted Jesus Christ as his Lord and Savior. Since then, he never went to the hospital again because of his depression and suicidal attempts. After surrendering to Jesus, he broke free from depression and was completely and miraculously healed from it.
Healing from The Father's Love
Ronnie's relationship with God progressed gradually. While the struggles of being gay persisted, he fixed his eyes on God's love and mercy. He faithfully participated in church and continued to seek the Lord. He surrounded himself with this loving community who prayed and fasted for him. He received discipleship from one of the church's pastors, Pastor Aris de Guzman. Ronnie's two gay friends also surrendered their lives to the Lord.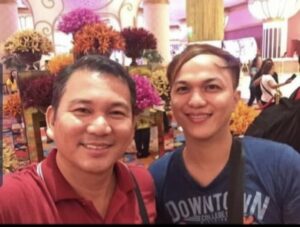 Finally Home
This is home, he thought. He was home with the God Who created him in His image and likeness. He was home when God planted him in a church that didn't condemn him, but looked after him, loved him, and cared for him. And he was home in his true self—in his identity.
He recognized that he was indeed a man, created by God to live as a man and to serve the Lord as a man. He removed his wig. He removed his makeup. He discarded the feminine clothes that he wore. His coming home to his Creator enabled him to come home to himself. He discovered himself when he returned home to God.
Despite his human efforts, Ronnie still had a lingering question inside him: How did he become like this? The answer came through a church retreat. The guest speaker, like him, was a former LGBTQ personality. As the guest speaker spoke and shared his life and his testimony, Ronnie saw the transforming power of the cross. In the course of the retreat, the Holy Spirit revealed the answer to his lingering question—unforgiveness. He realized that there was too much unforgiveness, bitterness, and anger in his heart that caused him to be disoriented with his identity. Ronnie broke down and fell to his knees. He named everyone who caused pain and misery in his life and family. He released forgiveness to them and fell to the ground. He rose up as a new man.
Eventually, Ronnie got involved in ministry and served God faithfully. The next year, Ronnie attended the same retreat with his whole family. All of them accepted Jesus as their Lord and Savior.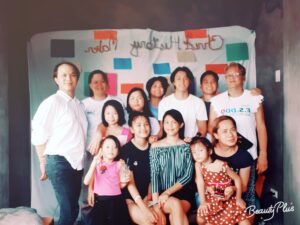 A Case of Mistaken Identity
One day in August 2019, Ronnie's phone rang. Film director Cesar Buendia, who is also a reformed SDI, invited him to share his life story at a national prayer rally organized by the Intercessors for the Philippines. Unbeknownst to both of them, Mark Stephen, a reformed LGBTQ personality from whom director Buendia got Ronnie's number, intended to give Ronnie Paul (another reformed LGBTQ "Ronnie")'s number but ended up mixing the Ronnies. He gave Ronnie Ventayen's number to Director Buendia. It was only after Ronnie Ventayen shared his message at the rally that they figured all these out.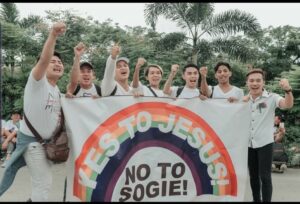 Nevertheless, they believed that Ronnie Ventayen was destined to speak and share his life and testimony. It wasn't an accident. Since then, Ronnie Ventayen's ministry grew in truth and in number.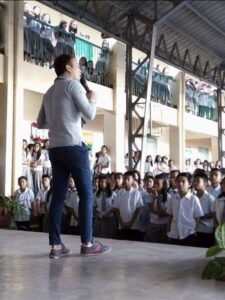 Today, Ronnie Ventayen, at 34 years old, leads LGBTQs to the Lord, but prefers to call them SDIs (Sexually Disoriented Individuals). He is one of the worship leaders in the church he attends. He is involved in campus, hospital, and prison ministries. He also mentors and disciples SDIs personally and intentionally. In his spare time, he cuts hair to help fund his ministries.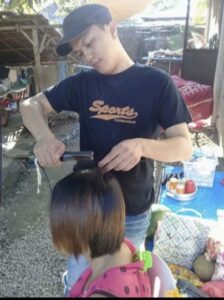 I turned off my recorder when bro. Ronnie finished his story. In silence, I tried to process everything that he shared with me for the past two hours. He sat across me and drank the cup of coffee that had gone cold. I marveled. While tears were shed and shared in this two-hour brunch interview, the immense goodness of the Lord stood out in retrospect. Just before we said our goodbyes and parted, Ronnie prayed for me.
After the prayer, we shook hands and walked our separate directions. I could not help but think about how he lived up to his name—Ronnie—one who is a mountain of strength. Ronnie Ventayen's story is one of freedom from the enemy's lies; a story of breakthrough and strength through the power of the cross.
Readers, may his story bless you, move you, and lead you to the transforming power of Jesus. If you want to get in touch with Ronnie Ventayen, you can reach him at his Facebook account: https://www.facebook.com/ronnie.champion.180
Editor's Note: This second part of Ronnie's story was first published in One Voice Magazine on June 16, 2020.