CHRISTMAS IS NEAR!
Gifts. We love sniffing them for clues, shaking them, tearing the bright wrapping paper. Christmas becomes so much happier when we give and receive gifts.
A few days ago, I found myself reading Matthew 7:9-11, which says:
"Which of you, if your son asks for bread, will give him a stone? Or if he asks for a fish, will give him a snake? If you, then, though you are evil, know how to give good gifts to your children, how much more will your Father in heaven give good gifts to those who ask him!"
God our Father DELIGHTS in giving gifts. And they are good gifts! Often times, we sit quietly and still, allowing for God's gifts to surprise us like a thief in the night. Perhaps in our thinking, we imagine our deep desires to be too shallow– like a new pet dog (okay, not shallow!), or maybe a salary raise or a high grade in class (okay, really not shallow!), or a new pair of shoes (maybe shallow can win here, but hey, a good pair makes my day!).
Or maybe our deep desires are drastic like the survival of a relative battling with cancer, or the restoration of a broken relationship. With whatever it is that is in our hearts, we can be sure our verbalizing them in prayer is not evil. Still, a good question to ask ourselves is this: do we feel the freedom to ask God for gifts?
Don't get me wrong– there's nothing bad with sitting still and knowing that God, who knows our hearts, can surprise us. BUT there is also ABSOLUTELY NOTHING BAD when we make our requests known to Him. We can ask God and treat Him like a loving Dad who wants His children to have good gifts. Because really, He does.
We often tell ourselves to love the Giver, not the gifts. It is a true statement, but not one that should make us perceive gifts as anything less than God's good pleasure to give to us! When His gifts come, don't we want to make Him smile, too, by embracing His goodness? Don't we want to revel in the love of our Father for us? And doesn't it please Him when we thank Him?
Certainly, God is NOT a genie to give us everything we want, BUT He's a generous dad. And as children, we ought to have the freedom to speak to our Father about the things in our hearts.
GETTING PERSONAL
As the year draws to a close, I cannot help but ask God, "Father, what is Your Christmas gift to me?" I am expectant. I am excited. If my parents on earth think of gifts to give me, how much more my Father in Heaven?
If Christmas matters to our hearts, then doesn't Christmas matter, too, to God? I mean, think about it—even if we can argue that the date of Christ's birth might be wrong, isn't God honored when we take time to celebrate Jesus' birth collectively? Isn't there joy in this?
TURNING CHRISTMAS AROUND
Now, let's take this concept for a little spin, shall we? If we can ask God for good gifts, CAN GOD ASK US FOR GOOD GIFTS, too?
HOHOHOHOHO!
He certainly can! And we certainly can make His heart smile with our gifts to Him! Here's a simple way to start: ask Him—
 "Father, what gift can I give to You this Christmas?"
Yes, we need to know what it is in God's heart, so that the gift we give Him is something HE WANTS! The God of the Universe—the God who made Heaven and earth— can find so much pleasure in our little responses of love to Him. How can we respond to His love for us? His goodness to us? Remember what Christmas stands for: Jesus with us. Emmanuel. Our Savior in the flesh. He came to save mankind from sin and to reconcile us to our Father in Heaven.
HOW CAN WE SHOW GOD OUR LOVE?
Can our gift to God this Christmas be obedience to a particular command we find difficult?
How about a charitable act toward the poor, or widow, or orphan?
Or perhaps we can pen an original Christmas song and sing it to God?
If we think about it, God gives us SOOO many gifts. He daily gifts us with sunshine (sometimes rain), and gives us food to eat and clothes to wear. We should definitely take Christmas for a ride, spin it around on generous wheels, and say:
"Father, it's your turn!"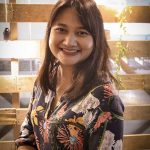 Janina Marie Rivera is the author of the book, A Night Bird Sings of Blindness and Fear and has co-authored the devotional, Dawns, published by OMF Literature. She is a contributing poet in the books Joyful Light and Whitmanthology: on Loss and Grief by Various Authors. She is the Editor-in-Chief of One Voice Magazine.