By Drake Nikko Buzeta
Assistant Pastor, WIN Better Living
Read 1 Samuel 17:31-37
There was once a church in Germany that was forced to close down. Because of this, the pastor had to look for a job to support his family. One day, he was going through the classified ads section and saw different job postings for an IT Department Head. Thinking that he was fit for the job (even without having the necessary qualifications), he applied for the position. As expected, most companies turned him down, but surprisingly, one company gave him a break. The rest was history for this pastor as his career flourished. Later on, he became one of the most sought-after consultants in that field.
Just like this pastor, we all have challenges in life that may seem too big for us. We might think these challenges are impossible to handle, but what can we do to overcome them?
Skills alone will not see us through. Skills must be accompanied by faith in God.
In our story, David was seen as a weakling by both Saul and the people when he was compared to their enemy, Goliath. They believed he was not going to succeed because of his physical differences. Their eyes were fixed on what David could not do.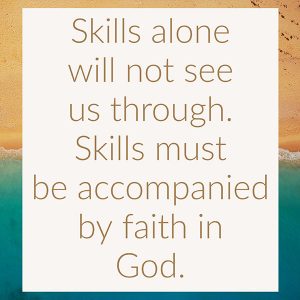 Similarly, the world we live in also relies on man's strength alone. But the Bible constantly reminds us that our perception of life should not just be limited to what our eyes see. This does not mean that we should neglect our skills and craftsmanship, but it implies that we should not rely on ourselves alone. We must place our faith in God instead. This is what David did. His faith helped him overcome his enemies because he knew he was fighting for God.
Be determined and disciplined in whatever situation you face.
The ability to overcome Goliaths usually starts with overcoming small challenges. Overcoming one small challenge after the other prepares a person to achieve bigger accomplishments When Saul asked David about his credentials in battle, David answered that he had experience in protecting a herd of sheep. From a worldly perspective, David's answer may sound absurd. What are lions and bears compared to Goliath? But Saul saw wonderful traits in David. He saw the determination and discipline David had as a warrior, not just the young man's possible physical capabilities.
Like David, discipline and determination are two things we must have in life. These two traits are important—both for the big and small challenges we deal with day after day.
Do not give up, warrior. Never let your problems bring you down. When you trust God, you can face different challenges: may it be a lion, a bear or a Goliath.
For more of Nikko's articles, you can visit his blog at drakebuzeta.wordpress.com.