Once, I was in a shadow of darkness;
What I had was a meaningless life
Like a traveller searching for answers
I was a restless wanderer on Earth.
Then Jesus came and pulled me by the hand,
Clothed me with grace and His salvation.
He redeemed my life from darkness to light.
From my blindness He restored my sight.
He renewed my spirit and gave me hope.
He restored my strength so I could stand again.
From restlessness, I entered into His peace.
Through Him, I found answers to my questions.
Now that Jesus has found me and saved me,
I will forever walk in His ways,
Heeding whatever He commands me.
I will listen and do whatever He says.
Forever I will rejoice in His love.
My heart and my soul will sing new songs.
Forever I will declare His beauty and majesty,
Proclaiming His grace, mercy, and love.
By Jasse Balag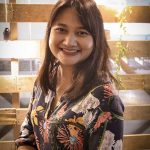 Janina Marie Rivera is the author of the book, A Night Bird Sings of Blindness and Fear and has co-authored the devotional, Dawns, published by OMF Literature. She is a contributing poet in the books Joyful Light and Whitmanthology: on Loss and Grief by Various Authors. She is the Editor-in-Chief of One Voice Magazine.