I keep wondering why time just seems to fly, yet things move so slowly.
I'm in my late twenties. I've worked in different companies, had various positions, and even went through a series of trainings. Yet, here I am: stuck at the bottom and still figuring out where I fit in and what I'm supposed to be doing at this point in my life.
Why is it that many people are able to know from early childhood what they want to be when they grow up and, more often than not, really end up as what they dream of being? I, on the other hand, am getting older. I have been left behind by colleagues and have somehow been overtaken by those younger than me.
Knowing this, I pause and analyze the direction my life is heading toward, asking questions left and right on the way.
I realize now that all this time, I've been looking at turtles—not the hard-shelled creatures, but the dreams I have that just keep slowing down and resting on the way while I pursue opportunities that were never really mine to begin with. I wasted much time on land—my comfort zone —when those dreams could have moved faster in the water if I had been inspired enough to go for them and had not been scared to splash, unafraid of drowning.
I'm nearing the shore and somehow, I get a whiff of what's in store. Hopefully, I do not splash in mere circles. I shall see other swimmers in this big ocean.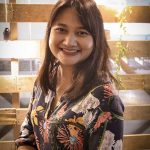 Janina Marie Rivera is the author of the book, A Night Bird Sings of Blindness and Fear and has co-authored the devotional, Dawns, published by OMF Literature. She is a contributing poet in the books Joyful Light and Whitmanthology: on Loss and Grief by Various Authors. She is the Editor-in-Chief of One Voice Magazine.