By Marco Escudero
May 21, 2011– a day when people from all over the world were thinking, actually believing, that it was the end of the world. For some, it was just a typical Saturday filled with family time, grocery shopping, or household duties. For me, it was the day when I understood beauty– beauty from the Potter's Hand.
That bright Saturday, I eagerly woke up eagerly, knowing that I would be serving our great God through an outreach for battered women. I was enthusiastic when I said yes to an invitation to help out WhatMag-One Voice's "Inner Beauty" outreach.
Emotions filled my tank as I entered The Haven for Women Institute in Muntinlupa. I was reminded of John 17:18, which says, "As You sent Me into the world, I also have sent them into the world." Jesus went ahead to do preparations. As our Heavenly Father sent Jesus, Jesus also sent us. Today was a day for God's love and glory to be celebrated; a day for His glory. It was a day for the beauty of woman to be revealed from the Potter's Hand.
The women arrived. Thirty women who were called by God to hear His word. Thirty women who felt unappreciated. These were women whom the Heavenly Father called for, and whom He wanted to speak to about His love.
The key speaker, Nep Caja, spoke about the women of the Bible, and how women were made into perfection through the Potter's Hand. She pointed out how Creation was incomplete without the crowning glory that is women. Bolstering her message, Ms. Caja sang and declared, "Woman Power!" with the women. It was amazing how the women responded to the speaker's call. Indeed, God was glorified!
The ladies of Haven heard the Gospel, His Word. His Light was upon them. The women felt appreciated and precious in God's eyes. For some women, it was the first time that they ever felt beautiful, not only inside, but inside-out. I then understood beauty. I saw it myself. I found myself keeping my emotions from showing up on my face. Tears of joy welled from my eyes and overwhelmed my heart. I was reminded of Jesus' coming here on earth, not to be served, but to serve. The Whatmag-Onevoice volunteer team blessed the ladies with free hair and make-up sessions, foot spas, serenades by His Symphony, and great food. The women's faces shone with light, love, and beauty.
To cap their day, they were serenaded and one by one, given bouquets of flowers. Some women even said that it was their first time to receive flowers. Indeed, God's presence was felt.
For the lovely ladies at Haven for Women, I want you to know God's Word in 1 Peter 3:3-4 "Your beauty should not come from outward adornment, such as from elaborate hairstyles and the wearing of gold jewelry or fine clothes. Rather, it should be that of your inner self, the unfading beauty of a gentle and quiet spirit, which is of great worth in God's sight."
I wanted to bless the women with God's love, but at the end of the day, it was them who actually blessed me.
Jeremiah 29:11
"For I know the plans I have for you," says the Lord. "They are plans for good and not for disaster, to give you a future and a hope."
God promised us that He has plans for us; plans for a good future, plans for hope. That day, I understood the true meaning of beauty– beauty that came from the Potter's Hand.
Editor's Note
The common Greek work for beauty is horaios, derived from the word hora, which means hour. Thus, for the Greeks, beauty means being in one's hour. It's fascinating how time and beauty are closely connected–a ripened fruit, a hideous duckling turning into a beautiful swan, the Son of God coming to earth in the 'fullness of time' to seek and save the lost. Ever since the fall, however, we have lost sense of what truly is beautiful. The very thing that God created us to be was marred and distorted.
Women, in particular, are easy prey to hurt and abuse, which attack their inner beauty.
On May 21, One Voice set out to minister to women who were battered and mistreated. It was a time spent to beautify them and give them their hour, if you may.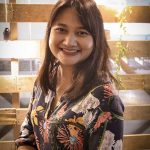 Janina Marie Rivera is the author of the book, A Night Bird Sings of Blindness and Fear and has co-authored the devotional, Dawns, published by OMF Literature. She is a contributing poet in the books Joyful Light and Whitmanthology: on Loss and Grief by Various Authors. She is the Editor-in-Chief of One Voice Magazine.