A Supernatural Encounter After Heartbreak
When I was 17 years old, God called me to be a pastor. But I didn't want that calling; I was afraid of the difficulties a calling like that could have.  Even though I grew up in a Christian family, I tried to run away from God's will by straying from the faith.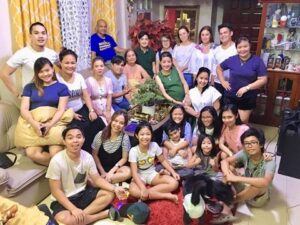 The Barrios Family
I became an alcoholic, had the wrong circle of friends, and became addicted to drugs by the time I was working in Manila at 30 years old.  At the height of this rough lifestyle, I had a fight with these same friends and my ex-partner. The fight bruised and wounded my face.  It was a terrible experience, and that encounter broke me physically and emotionally. Afterwards, I could not eat well for two days.  I was shocked and I felt abandoned and lonely.
At that time, I rushed back to Cagayan De Oro, my home province, as a way to retreat. When I arrived, I called my sister, Heart, on the phone for comfort and she offered to pray for me.
While we prayed, angels suddenly appeared in my room, filling it with bright light. I did not understand what was happening, but I could really see them, as if my eyes were on x-ray vision! Then I felt Jesus' presence–He was in front of me, and I could feel a gentle palm over me, guiding me to kneel on the floor. My face was drenched in tears.  My sister continued praying for me as we both felt God's fiery presence at that moment.
After that supernatural encounter, I read the Bible. God led me to Leviticus 20:26 and it was as if the words jumped to my attention: "I have separated you from the people BECAUSE YOU ARE MINE!"
A Wayward Heart
That verse was a heavy warning not to go back to my old lifestyle. Unfortunately, I chose to forget that experience. I still struggled with depression, and my heart was still broken over the events that happened in Manila. My flesh was also still entangled in drug addiction.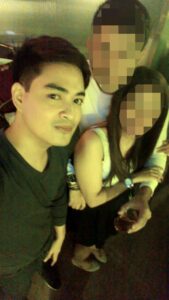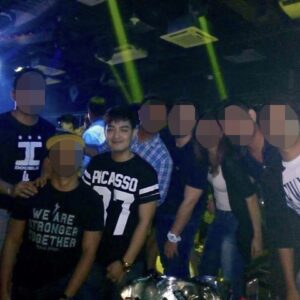 At Drug-Related Parties
Eventually, after seven months in Cagayan De Oro, I decided to return to Manila for work.
On the night I arrived in Manila, memories from that fateful brawl with my friends and ex-partner rushed back to my mind.  I thought I was already okay, but I wasn't.
Depression and all the other negative feelings came back. They overwhelmed me, and I could do nothing but weep. This brokenness was so intense. The misery led me to meet with my friend who was a drug supplier. We indulged in drugs in a single session. I didn't care about the consequences at that time. I only wanted to drown the pain. I wanted to die.
Then I overdosed.
I had a heart attack and was rushed to the hospital.
The Heart Attack that Led Me Back God
It was the darkest moment of my life–I was face to face with death.
My best friend and sister were in the emergency room with me. As I struggled for my life, doctors and nurses prepared the defibrillator and an injection for my heart if I were to succumb to cardiac arrest. A doctor instructed my sister to sign a waiver releasing the hospital from liabilities because they did their best; they all believed that my chances of survival were slim. I would most likely not make it.  Stuck in the hospital bed, I wept and shouted in frustration. I may have wanted to die, but surprisingly, there was a part of me that wanted to live!
The doctor and nurses tried to calm me down. But my thoughts were jumbled and foggy from the drugs I had overdosed on. I could feel my heart pumping endlessly as my panic heightened. It felt as if my heart would explode any minute! Memories flashed at the back of my mind, as the weight of death pressed onto me.
Then I saw another one of my sisters, Pinky, crying in front of me. Seeing her weep broke me again. I told myself, "Hindi siya pwede mawalan ng Kuya!" (She can't lose her older brother and be all alone.) I told her to call our family and to pray for me.
At the point of desperation, I gambled for my last breaths and sought God. I asked for His forgiveness. I prayed, "Lord, I'm sorry I did not listen! I still did things that weren't right. Lord, forgive me for being a sinner! Lord, I am Yours and You are mine! You will heal me, and I will live because you love me!"  I could do nothing else, but trust in His grace and faithfulness.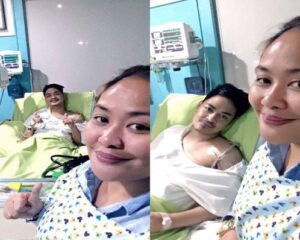 Me and my sister, Heart Barrios. She flew from Cagayan de Oro just to be with me on the day after I overdosed.
A Supernatural Encounter after the Heart Attack
I drifted in and out of consciousness. My vision felt blurry and in moments of clarity, I saw someone tall and gentle smiling at me. Was this an angel from God? Was this a hallucination?  A drug-induced fantasy? I wasn't sure. I didn't know who it was, but it felt as if this person was watching over the nurses' work.
Soon after, the doctor admitted me to the Intensive Care Unit (ICU) for a couple of days for close monitoring. Days in the ICU were often unbearable and inconvenient, but I had to trust God to let the healing take place.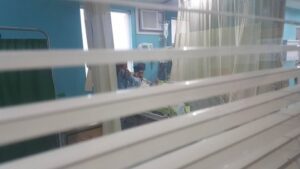 Inside the Intensive Care Unit
  I prayed while on the hospital bed. My heart was literally broken. My blood pressure fluctuated from sensitive to dangerous levels. I prayed every time my BP went up. On the third day, I was finally moved to a regular room. I stayed in the hospital for seven days.
A Closer Heart to God
My physical heart was very fragile. I wasn't allowed to drink caffeine or to do anything strenuous. Any palpitation could make my heart stop. I spent time recuperating in my condominium unit in Manila. My sister also stayed with me to watch over me.
On one night, I was sleeping and felt that my heart was pumping so hard. Suddenly, I felt my heart stop beating!
Then the next thing I knew, I was gone from my physical body. I believe I may have gone briefly to heaven and experienced what the Apostle Paul described in 2 Cor.12:2, "I know a man in Christ who fourteen years ago was caught up to the third heaven. Whether it was in the body or out of it I do not know, but God knows."
I saw beautiful things full of light. People were worshipping God. But an angel said to me, "Dawen, hindi ka pa ready dito, hindi ka pa ready. Dapat kang bumalik. May ipapagawa pa kami sa iyo."
And from there, I realized God's message. God wanted my heart to be closer to his, all along. He had been pursuing me this far.
I felt my spirit return to my body.  Back in my room, I bolted up from my bed and startled my sister who was with me. "I saw heaven! I saw heaven!" I exclaimed, and this bewildered her.
A New Heart Indeed
My healing from drug addiction wasn't an overnight breakthrough. My flesh still struggled between desiring to obey God and giving in to sinful temptations. A year after my experience in the ICU, I had a relapse and I tried to do shabu again–but instead of feeling pleasure, I experienced tremendous guilt. I called my discipler and two friends from church to pray over me.
This time, I truly repented from taking drugs. I told God that I was sorry and that returning to drugs did not bring me the fulfilment and pleasure I thought it would. Praise God because He kept forgiving me. I felt God's love over me—even after everything I did. I was going to live this new life with a decision to love Him back and obey Him.
At present, I've stopped running away from my calling. Jesus wanted me to be a pastor and now I am being discipled as an intern in ministry at the church, River of God, where I serve.  I am now in the ministries of healing and intercession, and I look forward to seeing people receive their healing as well.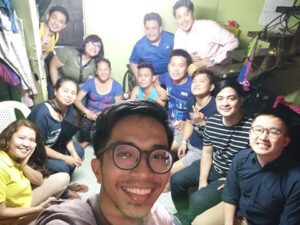 Bible Gathering at Our Mandaluyong Outreach
A Lesson from My Life
When problems engulf you, God is forever present and is able to restore and save you. All we need is to pray, ask for forgiveness, and have faith! God saved me, He can save you too! He can heal you and He can deliver you! Do not lose hope for there is POWER in the name of Jesus!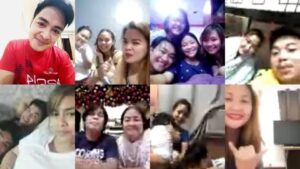 Bible Meeting with Family Members During the 2020 Lockdown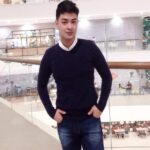 Dawen Barrios is currently the Founder and a Managing Director of Exodermia Philippines and DRB Business and Marketing Solutions. He is a speaker, leadership mentor and a sales and marketing trainer as well as a certified body language expert.