Many times we don't like talking to God because we're so jaded about being pure. We tell ourselves that we're just so full of the bad stuff: bad thoughts, bad words, bad family, bad choices; basically, a bad life. We think that the idea of God listening to us—imperfect as we are—is a lost cause. On the other hand, there are times when we do take baby steps toward purity. We take one step forward and two steps back, then settle into a state of depression. When someone comes around talking about purity, we give excuses for not shaking the dust off us, and call him/her boring or else naive.
There is one simple truth about God that we forget. He is greater than us. And He is pure. Nothing in our hearts can shock Him despite His purity. Nothing in our hearts and minds can give Him a heart attack despite His perfection. Whenever we insanely tell Him how much all our bad muck is His fault, He doesn't exactly zap us with a lightning bolt, and neither does He go around squishing us like termites or lording over our lives with an iron rod.
God loves us. It's quite a big statement. It's also quite a big commitment on His part. We know from the Bible that God is a Holy God, and that He doesn't like sin. In fact, He hates sin. In light of this, how can we dare approach a holy and pure God?
The Bible says that "For all have sinned and fall short of the glory of God" (Rom.3:23). It also says, "There is none righteous, no, not even one" (Rom.3:10). On the purity scale, we all rank negative 100. Even a goody-goody Dorothy from the Wizard of Oz will fail miserably on the purity index. Why? "For whoever shall keep the whole law, and yet stumble in one point, he is guilty of all" (James 2:10).
Pretend you have a glass of pure water. If you drop a tiny bit of soy sauce into it, you won't have pure, clean water. Sin is like that. One sin– just like a hundred sins– mars purity.
With this in mind, how then can we have a relationship with a God who is pure when we aren't? If He cannot stand sin, how can He possibly stand us? The answer is Jesus, and in Him lies hope. Jesus' own purity can cover our own sinfulness, no matter how bad we've become. In fact, the people whose lives He touched in the Bible were people you would consider the most impure and the most hated by society: prostitutes, adulteresses, lepers, and cheating tax collectors to name a few. We just have to start by being honest with ourselves and with God. Like the leper in Mark 1:40, we need the courage to say to Jesus, "If You are willing, You can make me clean."
We also need the courage to hear Jesus say, "I am willing. Be cleansed" (Mark 1:41b).
Search your heart right now. What areas in your life need the purifying grace of a Savior? Tell God how much you need Him. Tell Him that you can't be pure by yourself. Look at the cross whenever your sins condemn you. Know that a pure Savior wants you to be pure by His blood. You cannot do it on your own. You'll fail miserably. You need Jesus to wash you clean and keep you clean.
"If we say that we have fellowship with Him, and walk in darkness, we lie and do not practice the truth. But if we walk in the light as He is in the light, we have fellowship with one another, and the blood of Jesus Christ His Son cleanses us from all sin" (I John 1:6-7)
Jesus, I'm not pure. I've done bad things that disappoint you. Please forgive me. Please make me pure. I want to know your kind of heart, your kind of ways. Can you teach me? Can you bring me close to your heart? Save me from myself. Save me from all this bad that I've become. Show me how to live for you. Show me how to obey You. Be my Lord. I want to follow You. In Your name, Jesus. Amen.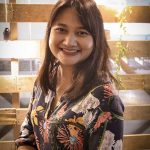 Janina Marie Rivera is the author of the book, A Night Bird Sings of Blindness and Fear and has co-authored the devotional, Dawns, published by OMF Literature. She is a contributing poet in the books Joyful Light and Whitmanthology: on Loss and Grief by Various Authors. She is the Editor-in-Chief of One Voice Magazine.