"Giving birth should be your greatest achievement, not your greatest fear"– Jane Weideman.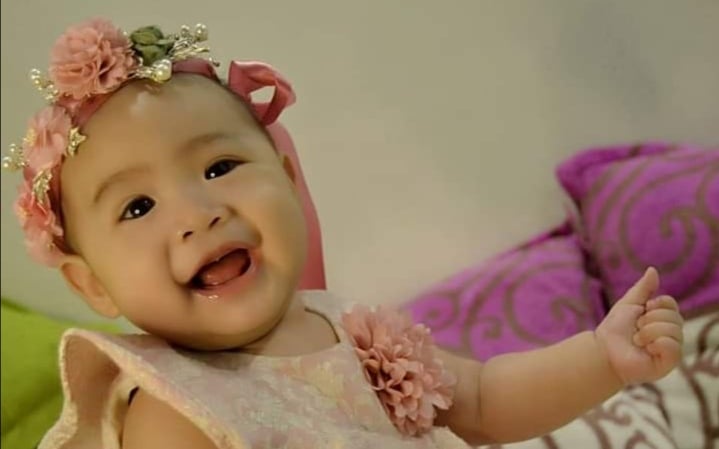 An Anxious Pregnancy
How can you set aside fear when you know that you will give birth in the midst of a pandemic—a time when you see death all around, and when cases of COVID-19 patients rise every single day?  Staying at home is the new normal, while going out is strictly prohibited–especially to a pregnant woman!
Three months before my scheduled delivery, the government released an order to place the National Capital Region under lockdown. At first, I was alright with this restriction because I'm the type of person who loves to stay at home. However, as time went by, I started to be anxious about my pregnancy. I had a dermoid cyst in my left ovary, and it was growing alongside the fetus in my womb.
A dermoid cyst is a benign tumor (usually) composed of a diversity of tissues which include hair, teeth, bone, thyroid, etc. I knew I had something wrong in my left ovary even before I married because of the irregularity of my menstrual cycle and pain on my left side. Also, I married late—I was already in my thirties and feared I'd never give birth. However, I had a desire deep in my heart to have a baby.
Grabbing Hold of a Promise
My husband and I took this desire to the Lord. One morning, during my devotions, the Lord spoke to me through the story of Hannah in 1 Samuel 1:20:
The LORD remembered Hannah.  So in the course of time Hannah became pregnant and gave birth to a son. She named him Samuel, saying, "Because I asked the LORD for him."
I told God, "Lord, if you remembered Hannah, then you will remember me!" I held on to this verse as God's promise for me that truly, I would bear a child, and that I would offer this child to the Lord.
True enough, I conceived. There were still concerns that plagued my heart, such as the position of the baby and the dermoid cyst in my womb. In an ultrasound, we found out that the position of the cyst prevented the baby from properly moving to the birth canal. My husband and I prayed every night for the baby, laying hands on my tummy, and asking God to switch the position of my cyst and the baby.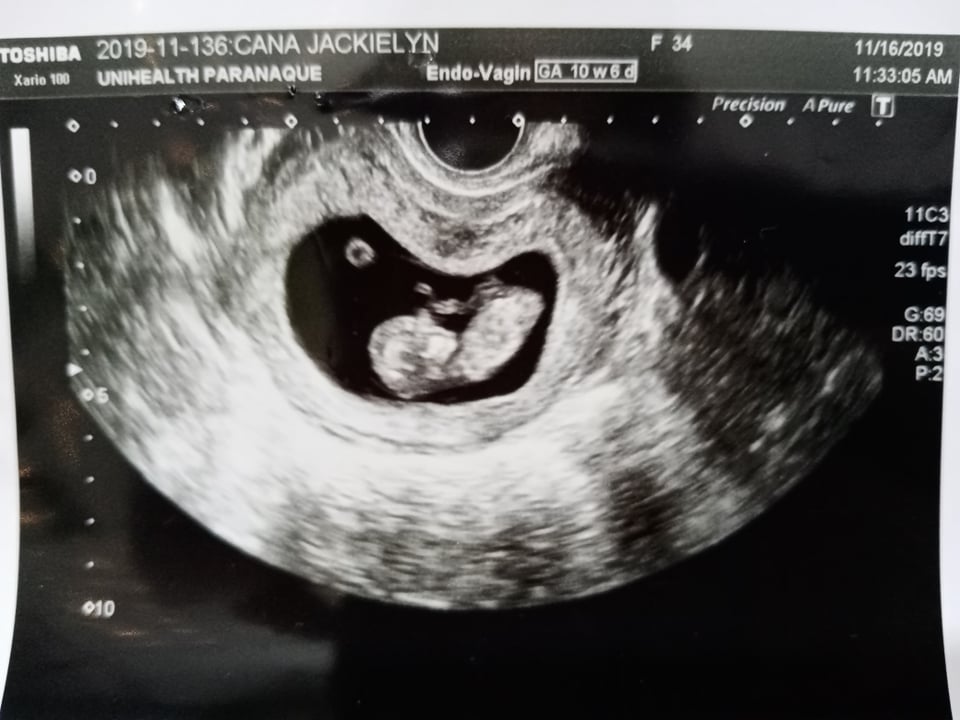 God miraculously intervened. In one check-up, the doctor exclaimed, "Wow, ang galing! Nagpalit na sila ng pwesto ni baby. Grabe ang tapang ni baby at parang kini-kick niya ang cyst mo pataas para makaayos siya ng pwesto sa labasan niya." (Wow, this is great! The position of your baby and the cyst have switched. Your courageous baby has kicked the cyst upward to fix her position for her birth.)
I told her, "Praise God! Answered prayer tayo, Doc. Ang amazing talaga ni Lord! Wala talagang imposible sa Kan'ya. Gabi-gabi po kasi, habang nagdarasal kaming mag-asawa at kinakausap si baby, nararamdaman po namin na nagre-response po talaga si baby. Grabe pa nga po yan pag nagbabasa ng Scripture si husband, si baby akala ko sumasayaw at pumapalakpak sa loob, umaalon-alon talaga ang tiyan ko." (This is an answered prayer, Doc. God is amazing! Nothing is impossible with Him. Every night, when we pray for our baby, we feel her response. When my husband reads Scripture to her, I feel the baby dancing and clapping in my womb. My womb is alive with movement.)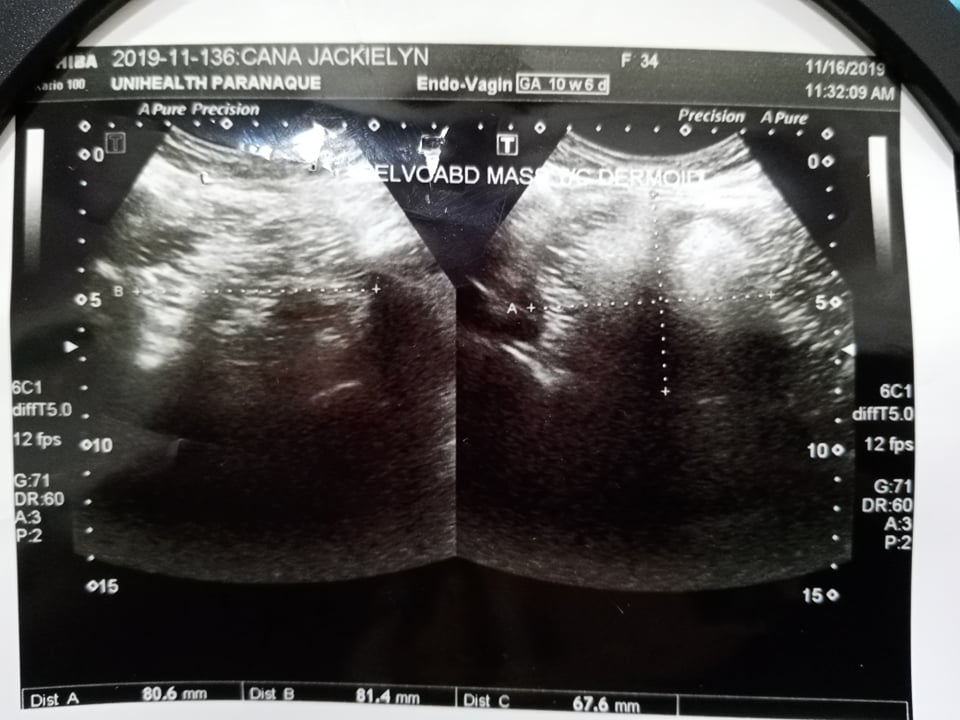 My baby growing alongside the dermoid cyst
The Need for Reassurance
Yes, I do believe in God. I pray. I know that He will not leave me nor forsake me, and that everything will work together for my good; but deep within my heart, I still needed reassurance from God that my baby was going to be fine.
There were so many nights and days I found myself crying because of the many what if's. What if I went for a regular check-up or ultrasound, and I came in contact with someone with COVID-19? What would happen to me and my baby? Would we both survive? What if I did, but the baby didn't?
Thanks be to God because His Word never fails to empower and encourage us to put our trust in Him! My husband and I consistently prayed for God's protection and assurance.  These verses spoke to our hearts:
Even though I walk through the valley of the shadow of death, I fear no evil, for You are with me; Your rod and Your staff, they comfort me.—Psalm 23:4

"He who dwells in the shelter of the Most High will rest in the shadow of the Almighty. I will say of the LORD, "He is my refuge and my fortress, my God, in whom I trust." Surely he will save you from the fowler's snare and from the deadly pestilence. He will cover you with his feathers, and under his wings you will find refuge; his faithfulness will be your shield and rampart. You will not fear the terror of night, nor the arrow that flies by day, nor the pestilence that stalks in the darkness, nor the plague that destroys at midday. –Psalm 91:1-6
Psalm 23 and Psalm 91 became our daily declaration of faith. As we continued to develop intimacy with Jesus, I felt the complete assurance that God had the best plans for us and our baby. His plan was to bless us with a child as He had promised.
His thoughts have always been higher than ours, and His ways far better than ours. With this assurance of God's protection, I proceeded with my regular check-ups.
Birthing Psalm Olivia
Three days before my expected normal delivery, my husband and I went to the hospital for a check-up. My obstetrician told me that there was a high possibility for me to undergo a cesarian operation instead of a normal delivery. The dermoid cyst had become bigger than expected, and I was not showing any signs of contraction— which I should have had by that day.
I felt how worried my doctor was, but my heart was so calm and peaceful. I vividly remember telling her, "Dra., nag-usap na po kami ni baby na sa June 7 siya dapat lumabas dahil iyon ang pangako ni Lord." (Dra, I've spoken to my baby. She and I agreed that she would come out on June 7 because that is the promise of the Lord).
I saw the bewildered look in her eyes as she asked, "Why June 7?"
I smiled and answered, "Seven is the number of Jesus. It means "grace and completeness." This baby belongs to God. I know for sure that He will protect my baby.
Lo and behold, on June 7, 2020, at 7:00 p.m., I gave birth to a beautiful and healthy baby girl. We named her Psalm Olivia Beray Caña, declaring that she would be an anointed worshipper of Jesus whose heart was to spread the Gospel and make the name of Jesus known. She is the promised child to me and my husband and to the family, and like Hannah of the Bible, I have offered her to the Lord. With God's grace and favor, I am certain that she will grow in the wisdom and knowledge of Christ, and that she will be a blessing to many.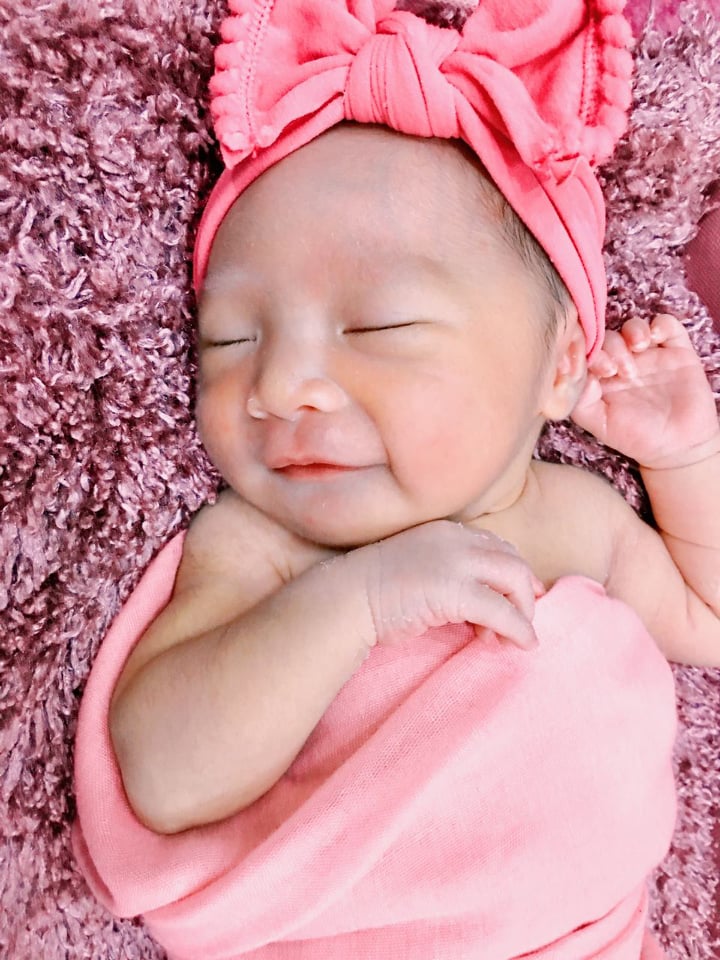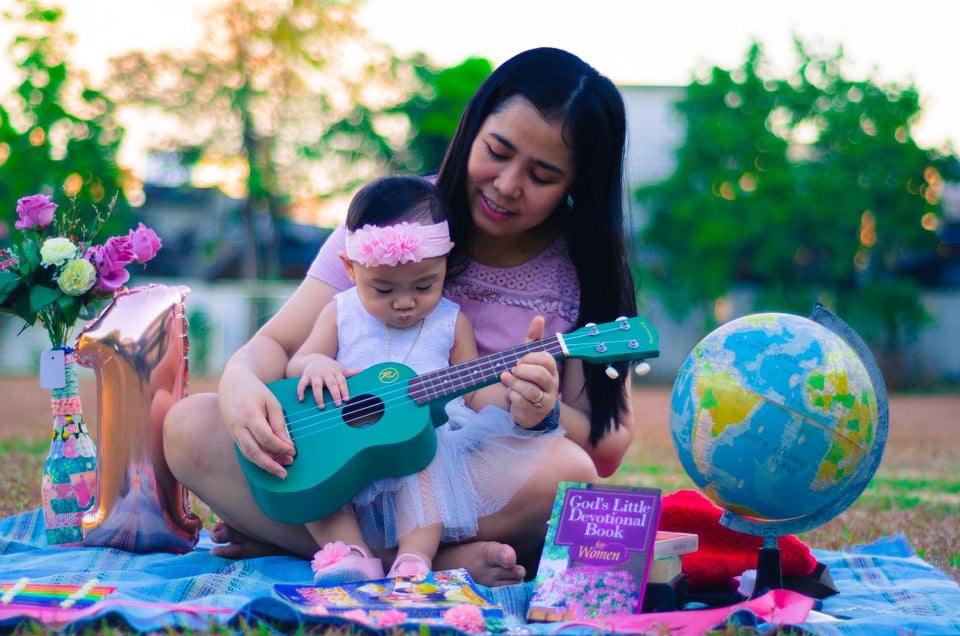 The Infant Worshipper
God's Goodness Amidst Challenges
It was not easy to be pregnant and to give birth to a child during the pandemic. A lot of procedures and safety protocols were administered, which resulted to my waiting in the hospital lobby for about 6 hours or more hours for my COVID-19 test results—while having my contractions! Our bills tripled. No visitors were allowed; not even my husband was allowed in the labor room. I was on my own in labor, experiencing the greatest pain I ever had. But God was there. He was and will always be by my side.
We experienced God's miracle after miracle. He provided for all of our bills. He saved my baby from complications, even though she released her waste already while she was still in my uterus. And even if I had a cesarian operation instead of a normal delivery, my dermoid cyst was removed because of the operation. God was with me in the hospital.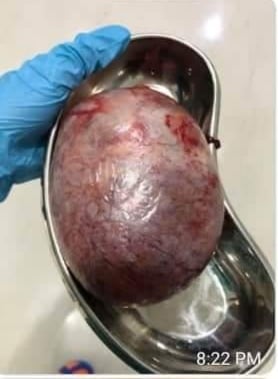 My dermoid cyst measured 11.9 centimeters
I am reminded of the goodness and love of God. If God the Father did not withhold His Son Jesus Christ to die for us who are sinners, what else in the world will He withhold from us? Is there anything too difficult and impossible for God?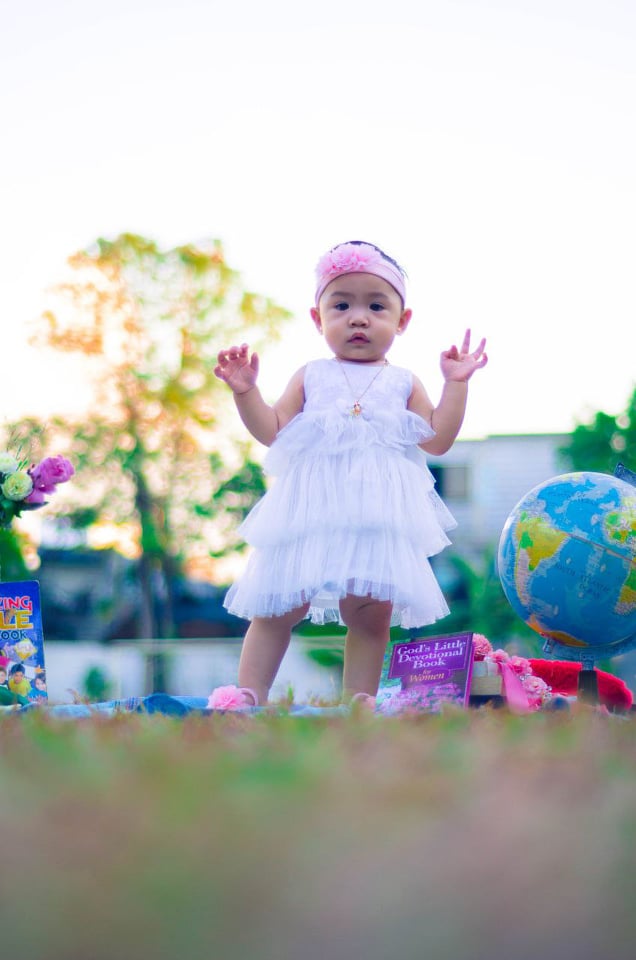 Right now, my daughter is 1 year and 2 months old. She is a constant reminder of God's grace, love, and faithfulness to me and my husband. Her birth in the midst of death all around is God's assurance of protection and consecration. For me, my daughter is a sign of hope to the hopeless, a joy to those who are mourning, and a Psalm in the midst of this world's pain.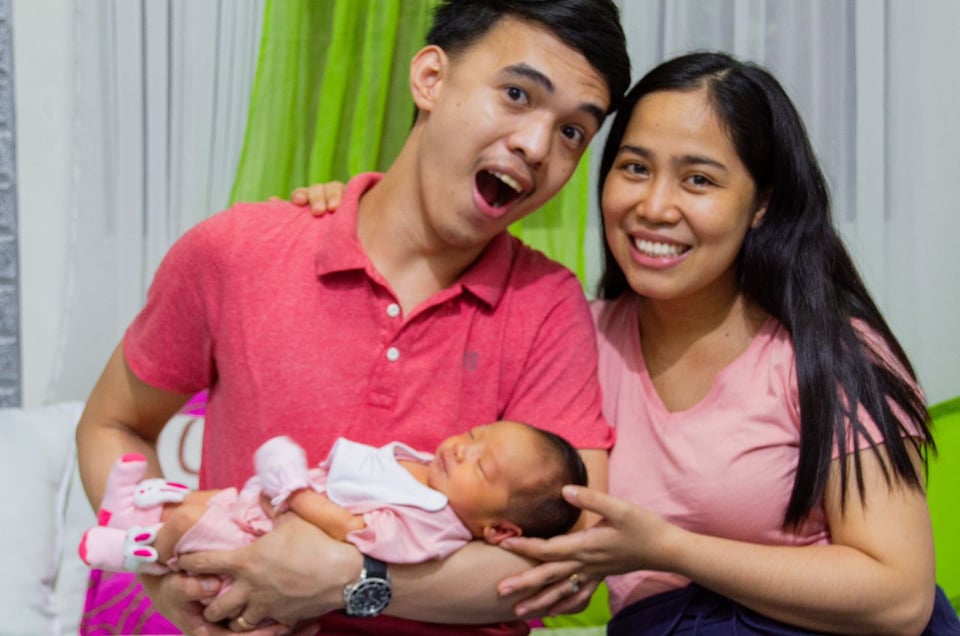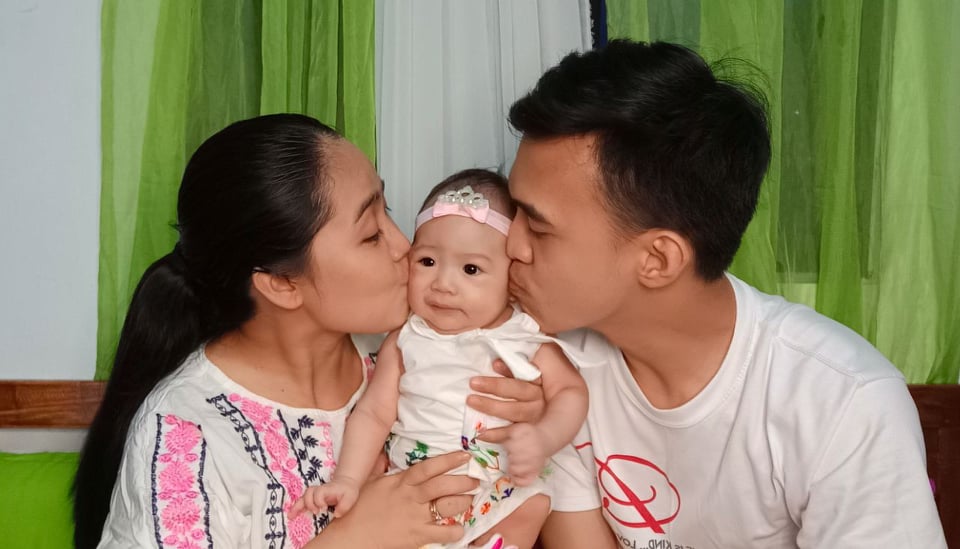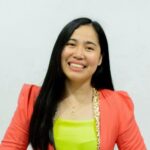 Jackielyn Beray Caña is the mother of her miracle baby, Psalm Olivia. She is happily married to Neil Oliver who is a a youth leader at the Shekinah Global Harvest Church. Jackie is a missionary by heart and a teacher by profession. Her vision is to reach more people for God and make Jesus known in her classroom and in the mountains. She is also the Founder of Called to Bless—an organization whose advocacy it is to educate people on how to honor God through health and finances. She is a nature lover, wedding planner, and "Mompreneur."