When I went on my first hike in 2016, I knew I had to do something more than eating, sitting, lying down, and doing simple house chores. I had to do leg workouts. Squats. Jogging.
But 2018 found me back to a sedentary lifestyle. I  noticed how my belly started to form and how my metabolism slowed down. This wild phenomenon urged me to do something more active.
And so I tried to "exercise." After two years and five months, I stepped on a mountain again — oh, correction: two mountains.
HOW PREPARED ARE YOU?
My earlier 2016 hike was difficult for me since it involved rock climbing. My friends and I wore gloves because we needed to hold on to the rocks as we climbed up and down. Though this new 2018 hike was only a long walk and a few assaults, it seemed to be just as hard because it felt like my first time again.
I've realized that whether you're a mountaineer or a couch potato, there's always a mountain to climb in life. The questions are "How prepared are you to face it?" "Where do you get your strength?" "Who are you climbing this mountain with— that mountain of depression? Debt? Broken relationships? Poor school and work performance?"
WHETHER YOU'RE A MOUNTAINEER OR A COUCH POTATO, THERE'S ALWAYS A MOUNTAIN TO CLIMB IN LIFE.
Life's mountains aren't always physical, but they are spiritual. Just as you need to prepare physically for a hike, you definitely need spiritual training to conquer the spiritual ones. Just as you need discipline in doing physical exercise, things like hearing God's Word, reading the Bible, praying, and fasting require discipline, too.
WHAT SLOWS YOU DOWN?
The 2018 Hike
We were 17 in the group with three female local guides. I was the slowest one. I initially blamed my bag for my speed. The bag weighed like I was staying at the summit overnight. Even before we reached half of the trail, I wanted to drag it already so I could walk without anything on my back. One of my guy friends offered to switch bags, but I refused, telling him that I could still bear it. He insisted on taking one of my 1L water bottles to ease the weight.
Then there was the heat, the uphill climb, my feet getting uncomfortable in my shoes, and the exhaustion altogether. I knew I couldn't use all of these excuses to justify how slow I was. It was a challenge for my friends, too. After the hike, I realized I didn't need everything in my bag.
In relation to our life's mountains, there are unnecessary things that we carry on our way up. Distractions. Addictions. Unforgiveness.
What do you need to let go of so that you can climb up more easily?
THERE ARE UNNECESSARY THINGS THAT WE CARRY ON OUR WAY UP.
Hebrews 12:1 (NIV) says: "Therefore, since we are surrounded by such a great cloud of witnesses, let us throw off everything that hinders and the sin that so easily entangles. And let us run with perseverance the race marked out for us."
Throw them off and then keep moving.
SLOWLY BUT SURELY
Even with one less water bottle in my bag, I was still the last person to arrive at every rest station, every peak, and every summit. My friends teased me when they noticed the pattern. Some accurate calculations were made on how long it would take me to arrive. Those who came to the rest stations, peaks, and summits first had a longer time of rest (and pictorials). As for me, I just had enough time to catch my breath, drink water, and take a few pictures and videos. I attempted to walk faster but to no avail. While I laughed  along with my friends' funny punchlines, deep down, I felt  bad and a little annoyed with  myself. Why couldn't I keep up? Why was I so slow?
There were two mountains. I could've stopped. I could've rested like some of my friends did after reaching the summit of the first mountain, but I didn't — even though the second one was  higher. Thankfully, we were able to leave some of our things with those who no longer hiked up.
Plus, my feet hurt. I was thirsty and tired.
But I chose to persevere. I was slow, but I still reached the top.  I gave  myself a pat on the back and praised  God who sustained me and brought me there.
HERE'S WHAT GOD TAUGHT ME:
Just because you walk slowly doesn't mean you won't  get to where He wants you to be. It's not important  to know who arrives at the  top first and who reaches it last. God did not design our lives to be a competition against each other.
YOU WILL NOT BE LEFT BEHIND.
God met my slowness with His patience. While everybody else was waiting at the peaks, one of our tour guides and two guy friends stayed behind. They pushed my bag up when I almost slipped, held my hand as I took a difficult step, and waited when I needed a few seconds to rest and sit. If not for them, I would've been lost. They could have reached the top as quickly  as the others, but there they were, lingering behind a human sloth.
After getting down from the second mountain, I sat for a few  minutes. Then we  headed out again. I told the three to go ahead and that I'd l catch up, but one of them said, "Hindi ka naman namin pwedeng iwan dito." (We can't just leave you behind).  At that moment, I  saw God's big, gracious, and loving heart toward me and yes, toward His children in general.
Even if we're at the point of giving up, God will never leave us.
GOD MEETS OUR SLOWNESS WITH HIS PATIENCE.
Maybe you've been hiking up your mountain for a long time now. Maybe you're tired. Maybe you're asking how much longer it will take until you reach the summit.  Maybe you don't want to burden other people, though they  are willing to stay and help.
I want you to know that God won't leave you where you are. He is with you. He will wait until you find yourself on your feet again, and He will provide you with the strength you need.
Even at the point of giving up, God will never leave you. He will wait until you find yourself back on your feet again, and He will be the one to provide you with the strength that you need.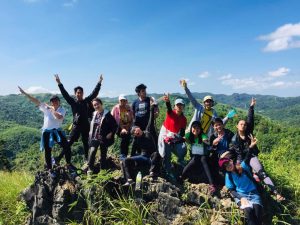 THE JOY THAT AWAITS
I pressed on to climb the mountains' summits because I wanted to see their beauty. The sight was my motivation to press on.
2,000 years ago, Jesus seemed to have the "hike" of a lifetime. It was probably the longest walk He ever made on earth when  He marched to Mount Calvary, the place where He was crucified. He didn't have a heavy bag, but He bore a heavy cross. What made that cross heavier was not the weight of the wood but the sins of the world—my sins, your sins, our sins.
Jesus was beaten, tortured, and crowned with thorns. But because of the joy that was set before Him, He endured. He endured every painful step that led to His excruciating death.
"For the joy set before Him He endured the cross, scorning its shame, and sat down at the right hand of the throne of God." (Hebrews 11:2 NIV)
The joy that awaited Jesus was to see you and me reconciled to God. His joy was to do His Father's will — to restore the intimate relationship that man once had with Him. His joy was to see sin nailed to  the cross and death defeated at His feet. It was His great love for us that kept Him going.
DON'T LOSE HEART. YOU'VE GOT THIS… BECAUSE GOD'S GOT YOU.
Whatever mountains you're facing right now, it's not something that Jesus can't understand or sympathize with. You can surrender your burdens to Him and exchange them for His yoke that is easy and His burden that is light (Matthew 11:28-30). As you lay aside every weight, and as you fix your eyes on the joy set before you, who is Christ, you will definitely conquer your mountains—no matter how high or difficult they seem.
"Therefore, since we are surrounded by such a great cloud of witnesses, let us throw off everything that hinders and the sin that so easily entangles. And let us run with perseverance the race marked out for us, 2fixing our eyes on Jesus, the pioneer and perfecter of faith. For the joy set before him he endured the cross, scorning its shame, and sat down at the right hand of the throne of God. 3Consider him who endured such opposition from sinners, so that you will not grow weary and lose heart." – Hebrews 12:1-3 NIV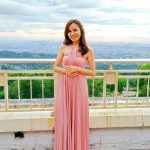 Raizel Leuterio is a part-time speech therapist who finds joy in seeing sunsets, oceans, stars, and young people changing the world. You can check out her blog at www.sunsetsoceansstars.wordpress.com